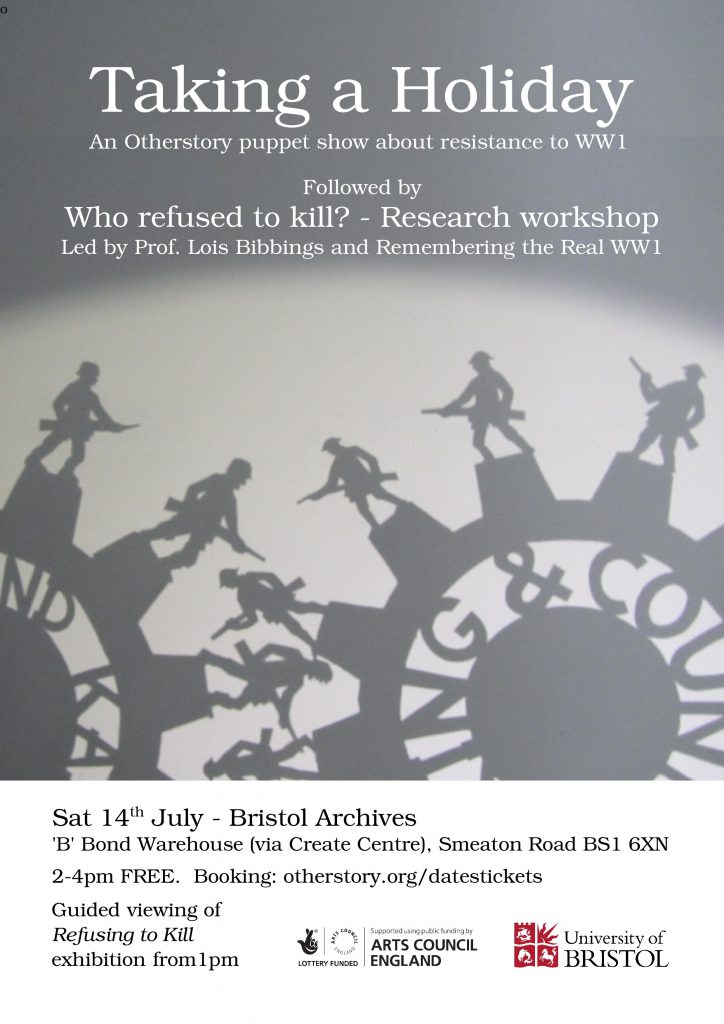 This will be the last chance to see the Refusing to Kill exhibition at the Bristol Archives and an opportunity to see the excellent Otherstory puppet show 'Taking a Holiday' and take part in a research workshop.
From 1.00 pm – the opportunity for a guided viewing of the exhibition
2.00 pm – 'Taking a Holiday' puppet show by Otherstory Puppetry
In 1916, a man of conscription age who "took a holiday" was probably on the run from the military autorities. The show tells the amazing story of how a bike shop owner in Bedminster aided runaways who refused to kill. If you've seen an earlier version of this show you will know how good it is. Come again, the show has developed over recent weeks with plenty of new additions.
3.00-4.00 pm – A workshop: Who Refused to Kill? Led by Professor Lois Bibbings, University of Bristol and Remembering the Real WW1 exploring how you might do your own research into conscientious objection and histories of resistance
The event is free, but please book on EventBrite here or by telephone on 07501 614256
The venue is accessible to wheelchair users.
For more information on these events email rememberingrealww1@gmail.com