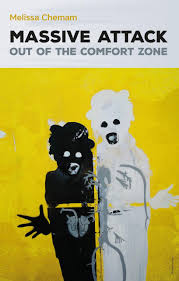 Just finished Massive Attack: Out of the Comfort Zone, courtesy of Tangent Books and Richard Jones. It's a detailed history of the band from the early eighties through to 2018 by French journalist, Melissa Chemam. The first half of the book, especially, really flies. The formation of the band in the eighties as the hard partying Wild Bunch sound system, cooking-up hip-hop, dub and soul in the punk-noir atmosphere of an eerily dark and violent inner city Bristol, the subsequent drift and collapse of that project and the emergence of Massive Attack and the effortless Blue Lines from the mess in 1991 makes a great story. What's not to like about an unlikely group of multi-ethnic working class Bristolians, against the odds and a London-centric music business, taking on the world?
The second part of the book may drift a little for the casual reader. This is due to the limitations imposed at the serious end of the music biography genre than any fault in the writing. The itinerary of a successful international band – recordings, tours, film soundtracks, side projects, the inevitable dabbling in world music and collaborations with Damon Albarn don't really create those great storytelling opportunities. Although there's no doubt this section of the book is detailed and well-researched and will be a major source on the band for years to come. It will also be a thing of joy for any completists out there as the latter section of the book only really contains one glaring omission. The great unanswered question in relation to Massive Attack remains: what's happened to Mushroom?
I highly recommend the book (available online here and all good local book shops), especially for that entertaining first half (because I like a good story), and only have a couple niggles with it. Firstly, it was translated into English by the French author, which makes for some odd – albeit often endearing – English. Maybe a second edition would benefit from a translation by a native English-speaker? There's also no index, which, personally, I find really annoying. I'm sure I read in there somewhere that George Ferguson told Robert Del Naja that if he backed him in the 2012 mayoral election then he'd change the name of the Colston Hall. But I couldn't find the quote when I went back to look for it. These gripes aside, this will be the go-to book to complement those Bristolian gems in your music collection for some time.
Roy Norris