A Transcript taken from a document found behind the bar at The Seven Stars Pub.
It was an inn in the latter half of the Seventeenth Century, for in the Reign of Charles the Second, Richard Pope, Linen Draper, one of the sons of William Pope, merchant, granted to the feoffoes of Saint Thomas a yearly rent of 30/-d. out of the tenement called "The Starrs then in the possession of Michael Jaine, victualler, in accordance with his father's will."
IT is interesting from its connection with the slave trade. On May 22nd. 1787, the association for the abolition of the slave trade was founded and immediately afterwards Thomas Clarkson, one of the founders, came to Bristol. He was determined to enquire into the truth of the report that seamen had "an aversion to enter and were inveigled, if not forced, into this hateful employment." He was introduced to John Harford and Matthew Wright and other Quakers. He also found supporters in Doctor Camplin and Dean Tucker.
By them he was advised to make the acquaintance of Thompson, landlord of the Seven Stars. He was, Clarkson says, a very intelligent man who was accustomed to receive sailors when discharged at the end of their voyages, to board them and find them berths on other ships. He avoided all connection with the slave trade, declaring that the credit of his house would be ruined if he was known to send those who put themselves under his care, into it.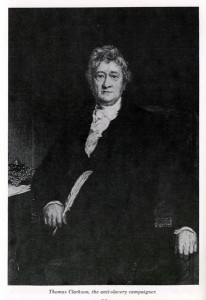 With Thompson as a guide, Clarkson made nineteen visits to various public houses in Marsh Street which were frequented by masters of slavers to pick up hands. They used to set out about twelve midnight, and usually finished between two and three a.m. From his own observations and from information given him by Thompson, Clarkson was assured that his suspicions were correct, and that crews were obtained by lies and fraud.
Towards the end of his visit he was asked by Thompson to assist a man named Sheriff who had shipped on a slaver as mate. He had been compelled to sign Articles of Agreement without reading them. At great personal risk with Truman Harford, Clarkson boarded the vessel and took Sheriff off. In the evening he called on the captain and left his name as that of the man who had taken away his mate, but he heard nothing more of it.