This collection of pictures show the Great Western Cotton Works in Bartons Hill, Bristol. It was open between 1838 and 1925.
These pictures were found in Bristol Central Reference Library and they should be consulted if you wish to reproduce them (refandinfo@bristol.gov.uk).
Some notable dates in the history of the Cotton Works (taken from Jim McNeill's lecture notes):
1840 – Mill employed 923 people including 609 girls, 113 boys.
1840 – Report of bales of cotton arriving on the ship, Oconee[a cotton growing area, river and lake in Georgia] Cotton was also brought from Liverpool.
1842 – The foundation stone of St Luke's Church was laid by the Mayor and member of Parliament for Bristol, Mr. P.W.S. Miles on the 24th May 1842 ~procession inc Merchant Venturers and Freemasons banner.
1845 – Children who missed a day's work were imprisoned and local people organised to get this changed.
1849 – Mention of 2,000 workers and the cotton-shed had a capacity of 10,000 –12,000 bales.
1849 – Barton Hill hit by cholera epidemic and 31 people killed. Poverty report the following year said that 'the houses [just 12 years old] [were] in very poor condition and had no back windows.
1861 – 65Southern US ports were blockaded, factory eventually closed, and in 1863: 117 burials in St Luke's Church (70 children under 5 buried –compared to 78 people buried in 1860)
1883 – 1,000 hands of whom 75% are women (Work in Bristol).
1889 – The Barton Hill Cotton Worker's Strike lasted a very "wearisome" month, but the organisers managed to enlist the support of the dockerswho refused to handle Barton Hill cotton, as did the dockersof Liverpool.
Eventually the employers conceded to most of the workers' demands. The strike had been organised by Miriam Danielland Helena Born. They had both left their well-heeled homes and lifestyles to devote themselves to fighting poverty and to the labour movement, moving to St Phillips to live among Bristol's poorest, across the canal from the cotton works.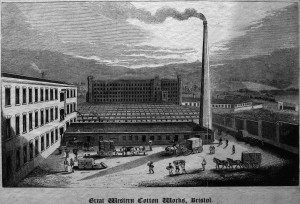 Samuel Loxton (1857-1922) was an illustrator from Bristol . Bristol Reference Library hold 2, 000 of his drawings. You can read more about Loxton on buildinghistory.org.