The files listed on this page contain data by decade of the burials at Rosemary Green (marked "Burial Ground (Disused)" on the map below). These are people who died in Eastville Workhouse and were buried in unmarked graves at the site.
The files are for Version 2.0 published November 2015 by Bristol radical History.
More files for subsequent decades will be added as the are compiled. As existing files are corrected, expanded and updated new version numbers will be issued.
A Note On Dates
It is now clear when Rosemary Green was first employed as a burial ground for Eastville Workhouse. The institution opened in 1847 and the first death is recorded in the registers as occurring in September of that year . Between 1847 and 1851 bodies of inmates were returned for burial to the parishes from whence they came. Examination of consecration documents for the site and other sources suggest that the first phase of usage of Rosemary Green as a burial ground was after April 1851 . The death registers show no burials for April 1851 and the first after the consecration (which occurred on or about April 25th 1851) is noted as 13 May 1851.

It appears that the Rosemary Green site became a disused burial ground around 20th November 1895. After this point the death registers mark the new burial ground as the 'Ridgeway' which is almost certainly the Ridgeway Park Cemetery located a few minutes' walk away at the top end of Eastville Park which was opened by a private company in 1888.Greenbank Cemetery which lies adjacent to Rosemary Green was opened in 1871 and there is significant evidence that parts of the site were used for burying workhouse inmates in unmarked graves, though it is unclear (as yet) when this activity began. See "Explanations and notes concerning released burial data" (below).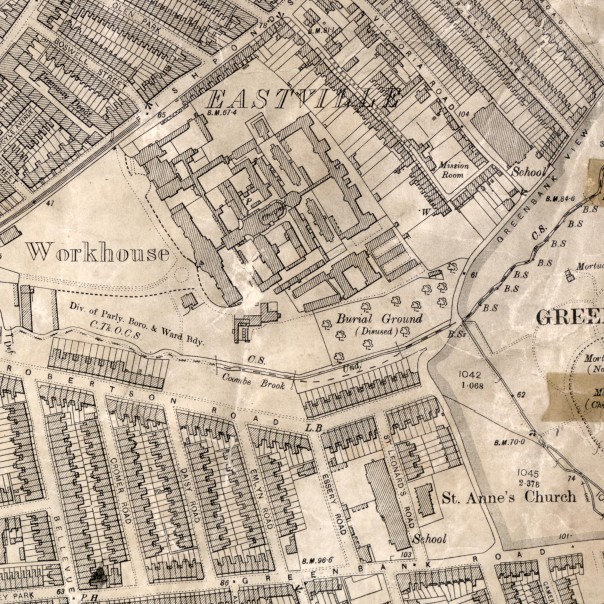 Data Files
All of the data we have is now available on this page. Research continues into the years 1847-50 (see "A notes on dates" above).
To save the PDF files to your computer: Right click ('Control' click on a Mac) the PDF link and select "Save Link As…" or "Save Target As…", depending on your browser.
Searching these files: With  the file open in your browser or Adobe Acrobat Reader pressing the 'Ctrl' key and the 'F' key ('Cmd' and 'F' on a Mac) simultaneously will open a search box, the location of which will depend on the browser you are using but it is normally top left or bottom right.
Explanations and notes concerning released burial data
1851-59
1860-69
1870-79
1880-89
1890-95
Summary 1851-1895
Change log
15/11/2015: VRS 2.0 uploaded. Includes the years 1851-54 and details of those that were 'donated' to the medical school.
26/01/2015: workhouse-data-1860-69-VRS-1-0c.pdf added.
25/01/2015: workhouse-data-1890-95-VRS-1-0a.pdf added.
24/01/2015: workhouse-data-1880-89-VRS-1-0c.pdf corrected Fanny Tasker appeared twice in Feb 1881 thus throwing the totals out by 1 female.
24/01/2015: workhouse-data-1880-89-VRS-1-0a.pdf added.