Bristol Radical History Festival 2022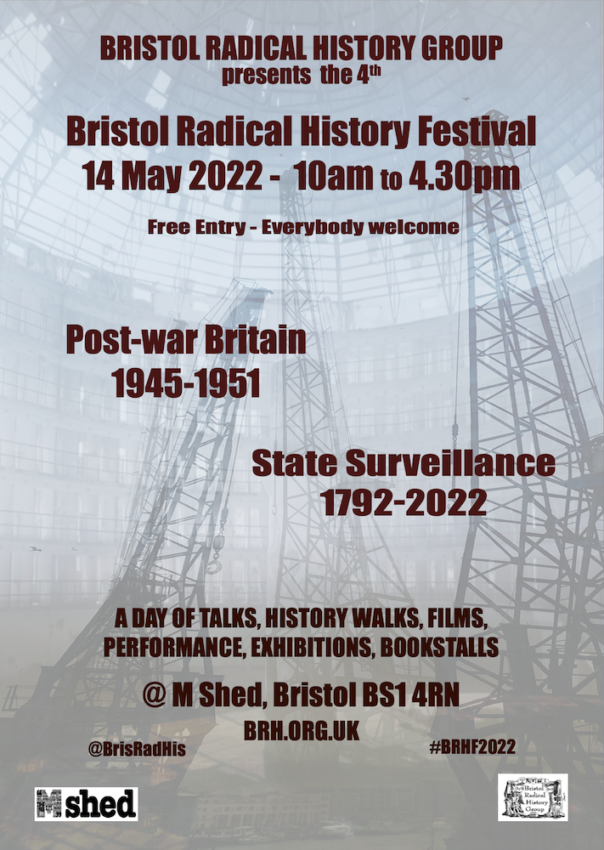 Saturday 14th May 10.00am – 4.30pm

Bristol Radical History Group (BRHG) have organised a full programme of events for our 2022 Radical History Festival, in collaboration with our hosts at M Shed. We have a great line up of speakers including:
This is a free event, and all are welcome!

Themes
The 2022 Festival has two main themes, where once again we will reveal hidden histories, debate and agitate for a future of better pasts:
State and private surveillance of labour and social movements (1792 to now) – Studio 2 on Level 1
Hidden histories of post-war Britain (1945-51) – Studio 1 on Level 1

State and private surveillance of labour and social movements (1792 to now)
When environmental campaigners exposed Mark Kennedy as an undercover police officer (or spycop) in October 2010, after a seven-year posting, outrage ensued over the fact he had coerced a number of female activists into relationships, and taken part in criminal actions.
Numerous other spycops were (and are being) exposed after this, forcing the Government to set up the Undercover Policing Inquiry into the activities of its undercover operations through the Special Demonstration Squad (SDS) and the National Public Order Intelligence Unit (NPOIU) since 1968. The cover-up, and whitewash, was underway, utilising multiple arms of the British state. But as we will show in this theme, surveillance activities by both the British state and private/corporate entities have been ongoing for centuries, often working together, hand in glove.
From fears in the aftermath of the French revolution in the 1790s, republicanism and the struggles for democracy to resistance to World War One and the rise of anti-racist and Black Power groups in the 1960s, the British state through spying has attempted to neutralise, suppress and stymie progressive labour and social movements. And they didn't stop yesterday…hello Special Branch!

For a brief overview of this theme, check out BRHG's pamphlet 'State Snooping – Spooks, Cops & Double-Agents' by Colin Thomas, published February 2021.
Hidden histories of post-war Britain (1945-51)
Post World War Two we find a Britain with its treasuries exhausted after paying for the war; a diminishing world power supported by colonies it could no longer afford to maintain, nor contain. However, its citizens were determined not to be short-changed again, as they were after World War One.
We will share hidden histories of successful popular campaigns and direct action in Britain, for housing, social reforms, civil and labour rights. From mass squatting of defunct army bases and the refusal of wartime ID cards to the struggle against the death penalty and international labour solidarity, these struggles were led from below rather than merely being the actions of a reforming Labour government.
These movements in Britain were concurrent with struggles for independence in the colonies. We will explore whether this progressive wave on the mainland was reflected in how the British state approached the struggles for colonial liberation.
It's Not All Talks
So, you'll know it's not just going to be talks, discussions and workshops!
Once again we will have:
history walks
films
singing
exhibition
stalls with books and merchandise from local and national groups
Not to be missed – visit the Level 2 foyer to see the Feminist Archive South's Politics and Protest: Posters from the Women's Liberation Movement exhibition.
M Shed
This will be our 4th Festival, which once again is hosted by M Shed, Bristol's social history museum located on the historic harbourside. Directions to M Shed.
All our events at M Shed are free – all are welcome!
NB: You should be able to just walk in on arrival; but later arrivals concerned about a possible short wait to get in can pre-book an entry time slot via the M Shed event listing here.
Other Events
We have several events in the run up to the BRH Festival 2022:
7th May, 1.00pm: Stroud History Walk – John Thelwall – 'The most dangerous man in England' – meet Lockkeeper's Cafe at Walbridge, Stroud, GL5 3JS.
Stalls
Stalls will be on the Level 1 Foyer. Confirmed are…
Active Distribution • Anarchist Communist Group • Bloom and Curll Bookshop • Bristol AFed • Bristol Radical History Group • Bristol SolFed • Bristol Squatted Project • Bristol & Bath Cuba Solidarity Campaign • Earth First! UK • Long John Silver Trust • MayDay Rooms • Peoples Republic of Stokes Croft • Protect Our NHS (Bristol) • Remembering Real WWI Group • SixPointsCardiff • Tangent Books • White Horse (Wiltshire) TUC bookstall
Publicity
For download we have our poster as pdfs: BRHF2022poster_portrait and BRHF2022poster_landscape.
Plus our flyer too as pdfs: BRHF22_flyerfront and BRHF22_flyerback.
Publicity and Info can also be shared via the #BRHF2022 FB event and @BrisRadHis on twitter
Please download and share widely – invite your friends and comrades!
Programme
The following programme of events will be updated regularly – check back soon!