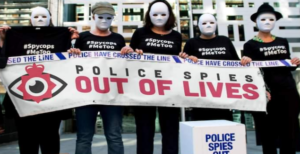 Our panel of speakers will address the scandal of the Spycops, the hitherto secret operations of undercover cops spying inside labour and social movements since 1968. Since the scandal became public knowledge in late 2010 with the exposure of Mark Kennedy, activists have traced and identified numerous #spycops along with their true and false identities. They have exposed some of their law-breaking activities; internal cover-ups; and coercion of numerous innocent, mainly women activists, into abusive relationships; along with the infiltration of their family & friend networks.
Whilst the British state continues its policy of 'neither confirm nor deny' anything, activists have forced the Metropolitan Police to apologise & pay-up in some cases. A further legal case led to a landmark victory last September 2021, with the Investigatory Powers Tribunal ruling that putting undercover offices into Kate Wilson's life had violated her human rights.
The Undercover Police Inquiry (UCPI) announced by the Tories in 2014 continues but has become synonymous with delay, cover-up and whitewash. The hearings, which restart again in May 2022, will show if indeed the Inquiry will offer a window of opportunity in getting at least some transparency and accountability.
Speakers:
Eveline Lubbers – Undercover Research Group (URG)
Kevin Blowe – Network for Police Monitoring (NetPol)
Emily Apple – activist, journalist, and core participant in the UCPI (Spycops Inquiry)


More Info:
Police Spies Out Of Lives
COPS: Campaign Opposing Police Surveillance – UCPI reports