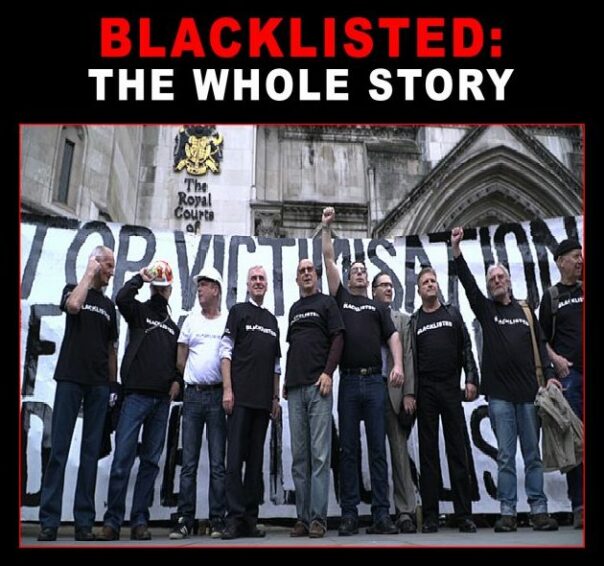 Blacklisted – the whole story (2016, 45minutes, Tom Wood/Reel News)
This film is an account of the system of blacklisting operated by the UK construction industry. It includes interviews with blacklisted workers and members of the Blacklist Support Group, along with footage from protests & pickets, as the blacklisted workers fight for truth and justice. It describes how the industry operated a secret blacklist – via The Consulting Association – to prevent workers, who would make an issue of safety or poor employment practices, getting employment.  It lists the construction firms involved in the formation of The Consulting Association in 1993, and the role of Cullum McAlpine (also a prominent member of the Society of Merchant Venturers in Bristol).
It also describes the evidence of state involvement in this practice, starting with the formation of the Economic League in 1919 by ex-military intelligence officers, Tory MP's, and industry bosses. It notes the desire to smash the trade union movement and significantly the 1984/5 Miners Strike, and it looks at the highly suspicious issues around the Shrewsbury 24 (building workers convicted after a picket in 1972, convictions overturned in 2021). The film also hears about the McLibel case and the evidence that private corporate security and the police exchanged information, and that the McLibel defendants ended up on the Consulting Association's blacklist!
A local construction worker will be present to say a few words about the issues in the film…
"As old as the pyramids" – is blacklisting still with us?  A former member of the Economic League told MPs that blacklisting was as "old as the pyramids". That organisation was shut down in the early 1990s and its successor, The Consulting Association, in 2009. Where might we see their handiwork today?
Further resources:
Blacklist Support group blog
Blacklisted book – co-authors: phil chamberlain dave smith. Blacklisted tells the controversial story of the illegal strategies that transnational construction companies used to keep union activists away from work. 2nd edition, 2018, available via publisher New Internationalist here.
Reel News articles & films on construction/blacklisting.
Spies at work – the Economic League, blacklisting and the secret state.