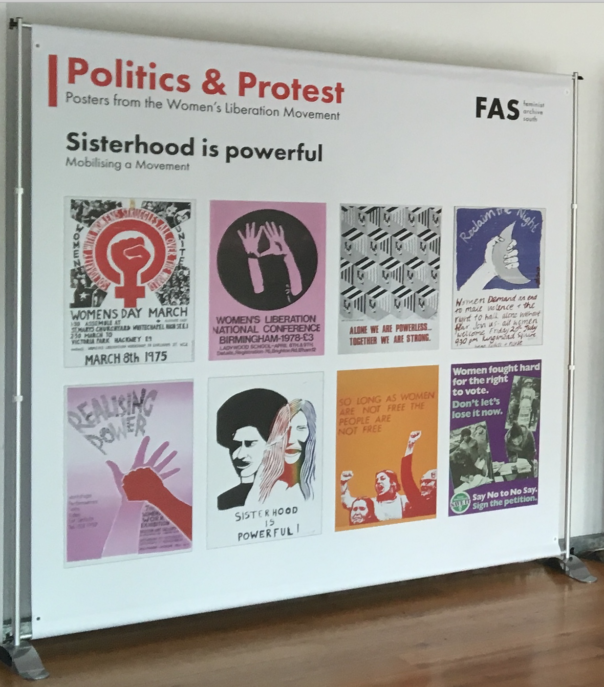 We are pleased to host this exhibition at the BRHFestival 2022 on 14th May at Mshed.
You can view the exhibition from 10am to 4pm, at the Level 2 foyer, inside Mshed.
Talk – 2pm at the Level 2 Foyer, Sue Tate, a trustee from the Feminist Archive South, will give a talk about the exhibition, and answer any questions.
About the exhibition:
Politics and Protest is a dynamic, colourful and inspiring exhibition of 70+ posters selected from Feminist Archive South's collection of over 1000.
It was first put together in 2018 funded by a 'The Women's Vote Centenary Grant' from the Government Equalities Office to celebrate 100 years of (some) women getting the vote. Part of a major project, Hatpins to Hashtags, it toured with events, workshops and digital training to five locations in the South West.
The posters are grouped around a number of themes; Sisterhood is Powerful; Black Sisterhood; Transnational Feminism; Our Bodies Ourselves; Lesbian Feminism; A Woman's Place; Taking on the Media; If I Can't Dance…; Girls are Powerful; Peacemakers.
Seen together they capture the energy and high voltage engagement of the Women's Liberation Movement and are a tremendous legacy for the present – reminding us of campaigns won and still to be achieved.