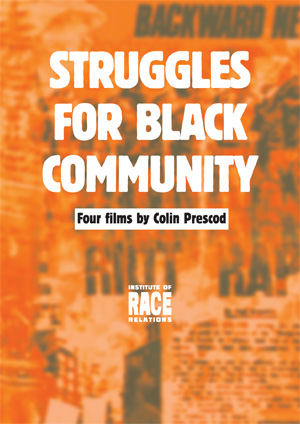 Struggles for Black Community, made for Channel 4 at the beginning of the 1980s, chart some of the milestones in Black people's fight for justice – Notting Hill in 1958, Powell and the numbers game, the strike at Imperial Typewriters, the death of anti-fascist Blair Peach. They reveal, in these histories 'from below', how unities across communities were forged so that Black became a political colour, not the colour of one's skin, how racism has changed over time and how state institutions have been forced to move in response to Black challenges.
A town under siege focuses on how Southall organised to resist racist and fascist attacks between 1976 and 1981. Southall's militancy had been initiated by community organisations of the 1950s, created to help Black workers combat racism in the workplace as well as to deal with discrimination in the community. And as state racism increased, the community fashioned and forged new weapons of struggle (IRR 38 mins).
From you were Black, you were out describes the Black condition in the 1950s in Ladbroke Grove a decaying inner area of London. And it was there that grassroots defence, organised against White racist mob attacks in 1958, developed into more general community resistance and the emergence of a number of major 'Black Power' organisations (IRR 38 mins).
A common history focuses on discrimination in employment, particularly the dispute at Imperial Typewriters in Leicester, in 1974. Here Black workers faced opposition not only from the bosses, but also from some trades unions as well as fellow White workers. And the film demonstrates that the outrage of young Black people (many born here), as seen throughout Britain in the dramatic events of the widespread urban uprisings of Summer 1981, was related to the disappointed hopes of their migrant-worker parents (IRR 38 mins).