Bristol Radical History Festival [Postponed until 2021]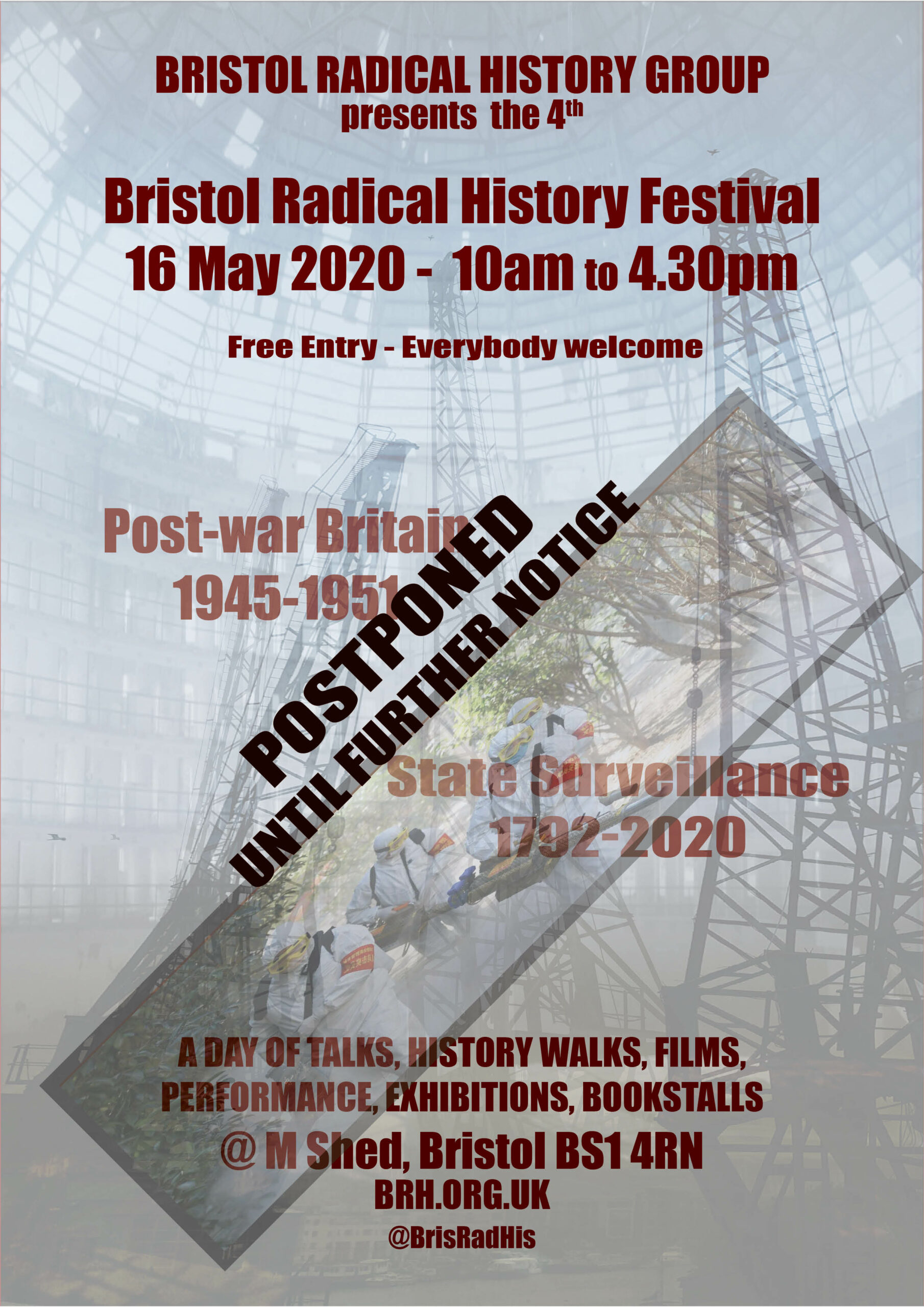 IMPORTANT UPDATE DUE TO CORONAVIRUS CRISIS: 02 November 2020
Regrettably, but predictably, we are postponing the fourth Bristol Radical History Festival, originally scheduled for 16th May 2020, due to the coronavirus crisis. In with line with the M Shed and Cube Cinema closure, and for the safely of attendees, we have put the event on hold. We have put together an excellent programme, some details of which can be seen below, and thank all those speakers, performers, stallholders and others who have agreed to contribute. We are not cancelling this event, and fully intend to reschedule when circumstances permit us to do this safely. We are currently have a provisional date of 15 May 2021. We have a back-up date of 18 September 2021. In the meantime, we are planning to schedule some online Bristol Radical History events.
***
"All the plays and interludes which had been set up, and began to increase among us, were forbid to act: the gaming-tables, public dancing-rooms, and music-houses, which multiplied and began to debauch the manners of the people, were shut up and suppressed; and the jack-puddings, merry-andrews, puppet-shows, rope-dancers, and such-like doings, which had bewitched the poor common people, shut up their shops, finding indeed no trade; for the minds of the people were agitated with other things…"
(Daniel Defoe, A Journal of the Plague Year, 1722)
Saturday xxxxx, from 10.00 am to 4.30 pm
Bristol Radical History Group (BRHG) have organised a full programme of events for our 2020 Radical History Festival, in collaboration with our hosts at M Shed.
Themes
The 2020 Festival has two main Themes, where once again we will reveal hidden histories, debate and agitate for a future of better pasts:
– State and private surveillance of labour and social movements (1792 to now)
– Hidden histories of post-war mainland Britain (1945-51)
State and private surveillance of labour and social movements (1792 to now)
When environmental campaigners exposed Mark Kennedy as an undercover police officer (or spycop) in October 2010, after a seven-year posting, outrage ensued over the fact he had coerced a number of female activists into relationships, and taken part in criminal actions.
Numerous other spycops were (and are being) exposed after this, forcing the Government to set up the Undercover Policing Inquiry into the activities of its undercover operations through the Special Demonstration Squad (SDS) and the National Public Order Intelligence Unit (NPOIU) since 1968. The cover-up, and whitewash, was underway, utilising multiple arms of the British state. But as we will show in this theme, surveillance activities by both the British state and private/corporate entities have been ongoing for centuries, often working together, hand in glove.
From fears in the aftermath of the French revolution in the 1790s, republicanism and the struggles for democracy to resistance to World War One and the increasing political and economic power of the working class in the 1960s, the British state through spying has attempted to neutralise, suppress and stymie progressive movements and groups. And they didn't stop yesterday…hello Special Branch!
Hidden histories of post-war mainland Britain (1945-51)
Post World War II we find a Britain with its treasuries exhausted after paying for the War; a diminishing world power supported by colonies it could no longer afford to maintain, nor contain! Its citizens were determined not to be short-changed again, as they were after WWI, in a post-WWII settlement they had fought so hard for, after a conflict in which so many had lost their lives.
Money for this reconstruction and social investment could only come from the US, the only global power to emerge unscathed from WWII. What would the rising US Empire demand in return from the diminishing British Empire?
We'll share peoples' stories of the push for social reforms, labour activism, civil rights and experience of national service within a diminishing empire under austerity; and look too at the break-up of the colonial Empire and Britain's treatment of its former subjects.
It's Not All Talks
So, you'll know it's not just going to be talks, discussions and workshops!
Once again expect:
walks
films
singing and performances
exhibitions
stalls with books and merchandise from local and national groups
Not to be missed – go up to Level 2 to see the Feminist Archive's Women's Liberation exhibition.
All the events at M Shed are free with no booking required – all are welcome!
M Shed
This will be our 4th Festival, which once again is hosted by M Shed, Bristol's social history museum located on the historic harbourside.
Other Events
We are also pleased to announce several tie-in events:
Monday xxx, 8pm at Cube Cinema – The Dirty War on the NHS: Director John Pilger's searing critique on the history of the NHS from 1948 to the present. £5/4 –  Tickets/info here.
Friday xxx, 8pm at Cube Cinema – Gadael Tir / Leave Land, the story of a thousand years of land rights and protest in Wales (in English). £10/8 – Tickets/info here.
Programme
The following programme of events will be updated regularly.
Monday 6th April
(drag left/right)

:
Friday 15th May
(drag left/right)

:
Saturday 16th May - Talks
(drag left/right)

:
Date
Time
Location
Title
Details
With
Link
, 2020
Studio 2
1949 Dockers' Strike (Avonmouth): Labour Government use troops [Postponed until further notice]
The 1949 Docks Strike was notable as an international solidarity action in support of strike action by Canadian seamen of the Canadian Seamen's Union. Canadian employers had used scab crews (in the […]
Di Parkin
More
, 2020
Studio 2
The Postwar Financial and Political Settlement (1944-1953) [Postponed until further notice]
Bristol Radical History Group's Alan Brown will discuss the end of the British Empire to Pax Americana and the cold war, hidden histories 1944-1953.
Alan Brown
More
, 2020
Studio 1
'Malevolence Imposes Vigilance': State and Corporate Surveillance (1911-1921) [Postponed until further notice]
The modern relationship between the British state and corporate surveillance dates back to a time of rapid industrial change between 1911 and 1921, when socialism and syndicalism formed a key part of […]
Nick Hiley
More
, 2020
Studio 1
'Secret and delicate sources': UK Black Power and undercover policing [Postponed until further notice]
Black Power in Britain started in 1967, reached its apogee in 1971 and was in terminal decline by the mid-1970s. It was an expression of frustration, anger and – most importantly – resistance to the […]
Rosie Wild,
Winston Trew
More
, 2020
Studio 1
State Surveillance after the French Revolution [Postponed until further notice]
In the aftermath of the French Revolution the spread of republican, democratic ideas led to a spying campaign by the British state
David Worrall,
Steve Poole
More
, 2020
Studio 1
Blacklisting and corporate surveillance [Postponed until further notice]
The recent history of blacklisting of Union activists by corporations
Phil Chamberlain,
Andrew Wilkes
More
, 2020
Studio 2
The 'Emergency' in Malaya (1948- 60) and the Batang Kali Massacre [Postponed until further notice]
At the end of World War II, an almost bankrupt Britain was determined to reinstate the old areas of European power in the 'Far East' and held Vietnam and Indonesia until France and Holland could […]
Aly Renwick
More
, 2020
Studio 2
Stolen Paradise [postponed until further notice]
During the summer of 1946, thousands of British families took the law into their own hands to temporarily solve their housing problems by "requisitioning" empty military camps. This mass-squatting […]
Eugene Byrne
More
, 2020
Studio 2
Set the people free – opposition to ID cards [postponed til further notice]
David King will outline how during the Second World War the government introduced compulsory ID cards as part of their emergency measures. It was not until seven years after the War that ID cards were […]
David King,
Alex (Past Tense)
More
Saturday 16th May - Walks
(drag left/right)

:
Saturday 16th May - Performance
(drag left/right)

:
Saturday 16th May - Films
(drag left/right)

:
| Date | Time | Location | Title | Details | With | Link |
| --- | --- | --- | --- | --- | --- | --- |