Bristol Radical History Festival 2018
Building on the success of the 2017 Bristol Radical History Festival, M Shed and Bristol Radical History Group are excited to be hosting another event on Sunday May 6th 2018 with more talks, walks, performance and stalls.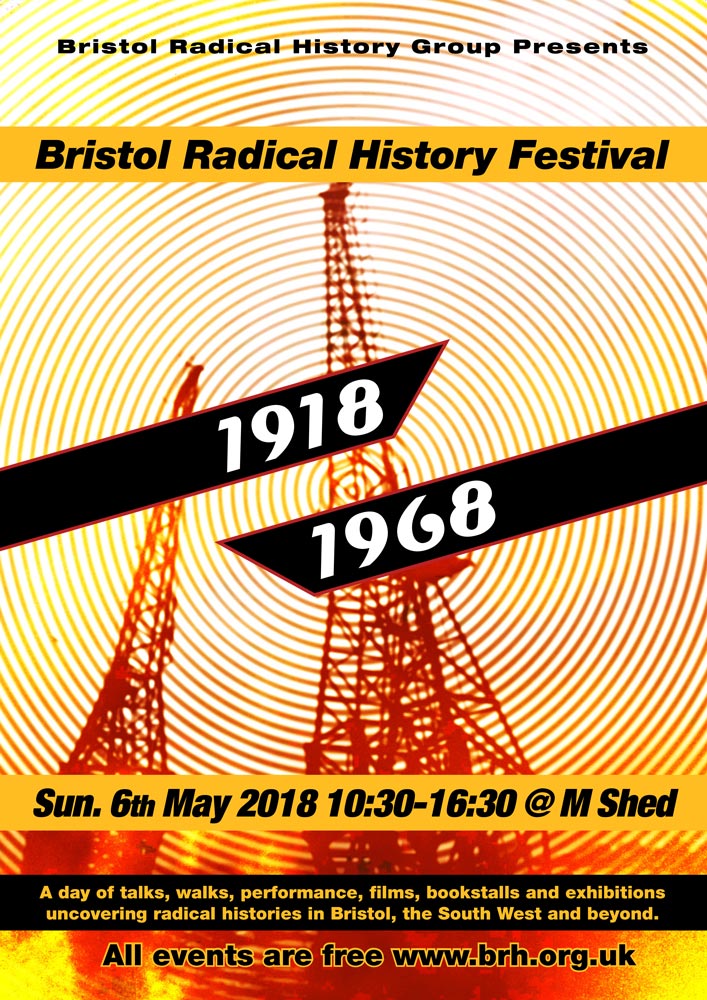 2018 marks the anniversaries of two of the most significant historical moments in the 20th Century.
The First World War ended in 1918. This centenary sees the Remembering the Real World War One group presenting recent research into the hidden histories of rebellious miners, mutinous soldiers and those on the run from conscription as well as examining how the war and its victims are physically memorialised.
May 2018 also marks the fiftieth anniversary of the May 1968 events. These signalled the rise of the counter-culture and emergence of the new social movements that continue to define cultural and political debates. The Bread, Print and Roses Collective revisit 1968 in bringing together those 'who were there' to discuss what happened in Bristol, from university occupations, the founding of St Paul's carnival and the underground music scene to the emergence of the women's liberation movement and the struggles for workers' control in the aerospace industry.
Summary
A series of history talks, films and panels are taking place in the meeting rooms  Studio 1 (World War One) and Studio 2 (1968) on Level 1 from 10.30am – 4.30pm.

A puppet show, story telling and poetry are taking place in the Life Gallery cinema space on Level 1 from 11.30am – 3.00pm.
An exhibition of international political posters from 1968 and the works of radical artist Dennis Gould along with poster and banner making workshops and other activities are situated on the foyer of Level 2.
History walks will be starting at Christchurch, Clifton at 11.00am and at M Shed at 11.30am and 4.30pm.

Bookstalls are situated on the foyer of Level 1.

Radical history videos relating to 1968 will be showing all day on the Level 1 foyer.
Travel to M Shed
By Car: Parking is available in the Wapping Wharf car park adjacent to M Shed (£4.50 for the whole day).

By Train: From Temple Meads station it is a 15 min walk to M Shed. If you fancy a scenic route by river, another option is to take the Bristol Ferry Service from Temple Meads to Prince St Bridge.
By Bus: It is a 15 min walk to M Shed from Bristol Bus Station.
Stalls
Active Distribution • Bristol Kurdish Solidarity Network • BRHG • Bristol Women's Voice • Cato Press • Dreadnought Bookshop • Fiducia/Long John Silver Trust • Just Seeds • Our Chartist Heritage • Past Tense • People's Republic of Stoke's Croft • Radical Stroud • RRWWI Group • Tangent Books • Unite Community • Unofficial Histories
Full Radical History Festival Programme
Note: events will be added to this list and there may be changes of times.
Date
Time
Title
Details
With
Link
, 2018



History Walk and Film: Painted out of history
What is the connection between the Bristol Sharples family of artists, the American Revolution of the 1780s and the Royal West of England Academy of Art? Join Lee Cox and Hazel Gower, director and […]
Lee Cox,
Hazel Gower
More
, 2018



Studio 1: The Shot At Dawn Campaign: Rewriting History and Pardoning the Past
In 2006 a legislative pardon of sorts was granted for some of the men executed by the British military during the First World War. However, the fight for something to be done about this – and the […]
Lois Bibbings
More
, 2018



Studio 2: The Bristol Sit-in: Student protest and occupation in 1968
In the winter of 1968 Bristol students occupied Senate House for 10 days. Their demands included greater representation for student reps on University bodies and 'reciprocal membership' for all […]
Sue Tate,
Kevin Whitston
More
, 2018



Level 2: Exhibition : Dennis Gould's art and memorabilia
Poet and letterpress artist Dennis Gould began the early 1960s in Stafford Prison. Serving with the Royal Engineers during the 1950s, he later took up the cause of the Committee of 100, the […]
Dennis Gould
More
, 2018



Level 2: Exhibition: Political posters of 1968
We are very pleased to be hosting an exhibition of political posters from the 1968 movements created our friends at the Interference Archive in New York. From the Atelier Populaire (print collectives) […]
More
, 2018



Level 2: Banner making: The Atelier Populaire: The Struggles Continue!
In May 68, visual culture was deployed as a form of radical protest, not just in the Parisian Atelier Populaire where students and faculty staff took over the Ecole des Beaux Arts, putting print on […]
bread, print & roses
More
, 2018



Level 2: Poster making: make a print poster with Cato Press
Cato Press, Easton's very own print workshop, continues the tradition and art of relief printmaking. Members of Cato Press will be on hand in the activities and exhibitions area on Level 2 with some […]
More
, 2018



History Walk 1 and Film: Painted out of history
What is the connection between the Bristol Sharples family of artists, the American Revolution of the 1780s and the Royal West of England Academy of Art? Join Lee Cox and Hazel Gower, director and […]
Lee Cox,
Hazel Gower
More
, 2018



Studio 1: The Art of Remembrance, a Sculptors approach to War Commemoration
Centred around the Shot at Dawn Memorial the talk looks at how war commemoration is viewed and how an artist's approach may differ from that of a commissioning body. It also looks at how war […]
Andy De Comyn
More
, 2018



Studio 2: Women, politics and protest: Feminist perspectives on '68
In two short reflective talks, Sheila Rowbotham and Hilary Wainwright will contribute personal memories of links between events, movements and ideas which surfaced in 1968 and the emergence of the […]
Hilary Wainwright,
Sheila Rowbotham
More
, 2018



Performance Space: Otherstory puppet show: On the Run
Otherstory presents – A puppet drama documentary about men on the run from conscription during World War 1. Using table top puppetry, photographs and posters from the period, the experience of men on […]
Otherstory,
Lois Bibbings
More
, 2018



History Walk 2: Bristol – Feeding the people
On this history walk we will discover how Bristolians were fed during the early modern era (17th-19th Centuries). Hear how a rapidly expanding urban area, without the ability to feed itself, was kept […]
Anny Cullum,
Steve Mills
More
, 2018



Studio 1: Starting the flame: Agitators, Conchies and Miners in the Forest of Dean
In August 1917 a meeting of Forest of Dean Miners passed motions against the conscription of miners and in favour of an immediate negotiated peace to end the war. This talk will discuss the role […]
Ian Wright
More
, 2018



Studio 2: From Festival to Carnival: 50 Years of St Paul's
St Pauls Carnival is held, usually on the first Saturday of July in Bristol. The celebration began life in 1968 as the St Pauls Festival, when the idea was "to create an event to help improve […]
Julz Davis,
Roy Hackett,
Rob Mitchell,
Cleo Lake
More
, 2018



Performance Space: Story Telling: 'The Dispossessed'
As part of her collection of historically-based narratives which provoke questions about society today, Heather Jane will present a story set in her homeland of Gloucestershire. 'The […]
Heather Jane
More
, 2018



Studio 1: Film Showing: Mutiny at Taranto
This documentary looks at the British Caribbean experience of the First World War and its legacies, as revealed by the last surviving veterans of the British West Indies Regiment. Central to the […]
Tony T,
Julian Putkowski
More
, 2018



Studio 2: The Granary: Music in Bristol '68
The Granary opened its doors as a jazz club in Bristol in 1968, establishing itself as a rock venue in 1969 when the collective Plastic Dog moved in. This session explores the Bristolian music scene, […]
Al Read (c1942- 2019),
Ed Newsom
More
, 2018



Performance Space: May 1968: From a Mod to a Marxist
Born in 1951, Radical Stroud's Stuart Butler recounts how the events of May '68 turned him from a mod into a Marxist. Stuart shares his personal journey during the year that rocked the world through […]
Stuart Butler
More
, 2018



Studio 2: What I remember…memories of 1968
Di Parkin, Secretary of Bristol Radical History Group shares her memories of 1968 from the Vietnam anti-war demonstrations and the women's equal pay strike at Ford's Dagenham to the 'Prague spring', […]
Di Parkin
More
, 2018



Studio 1: On the run – Remembering the men who went away
From the introduction of conscription in 1916 to the end of the war each year at least 80,000 men were reported missing as deserters or absentees from the British home forces. Among them was an […]
Cyril Pearce
More
, 2018



Studio 2: Strikes, equal pay and workers' control: the workplace in '68
The events of 1968 are often represented by university occupations, protests against the war in Vietnam and the rise of the counter-culture. This however is a partial picture which excludes the […]
Hilary Wainwright,
Roger Ball
More
, 2018



Studio 1 & 2: Pressure Drop? What did the protests of '68 achieve?
Professor Bush offers a critical reassessment of the events of 1968 and their aftermath. He will look at May '68 in Paris in a broader context of global protest and changing narratives of political […]
Clive Bush
More
, 2018



History Walk 3: Degrees of Dissent: Bristol's radical educational history, and what we can do to take learning back…
Join collective bread, print & roses on a tour through Bristol's radical past, present and future. Together we will bring to life the city's dissenting history, its rich tradition of self-help and […]
bread, print & roses
More