Dennis Gould is a local poet and letterpress artist. Following service with the Royal Engineers, he has been involved in the counter-culture since the early 1960s when he was a member of the Committee of 100, the direct-action wing of the anti-nuclear movement.
In 1965 Dennis helped to organise an anarchist fringe festival of poetry at the Octagon in Bath. He continued to campaign and work with Peace News and then in 1967-1968 'travelled the land, reading poems in schools and colleges, folk clubs and pubs, CND demonstrations and Quaker meetings, festivals and prisons'. Later in 1968 he moved to Redruth where he ran a community bookshop and edited and published the poetry of Kenneth Patchen, reflecting his lifelong love of the beat poets.
He moved to Bristol, where, in 1970, he founded the performance group, the 'Riff Raff Poets', together with Jeff Cloves and Pat van Twest which continued until the latter's death in 2008. They were a lively presence at Glastonbury Festivals, Green Gatherings and protest camps where they provided many a barbed riposte to the barbed-wire outposts of the industrial-military complex.
Dennis and co-editor Jeff Cloves also worked closely with illustrator Clifford Harper to design Visions of Poesy: An Anthology of Anarchist Poetry, published by Freedom Press in 1994. Favourites again included the beat poets – he has forged a long acquaintance with Lawrence Ferlinghetti – the Romantics and of course Gloucestershire's own beloved Laurie Lee.
Today Dennis is an elder no-statesman among West Country anarchists. He is also a pamphleteer, cyclist, habitué of The Woolpack in the Slad Valley (once Laurie Lee's local) allotment gardener, former football referee and still loves to recite poetry. He is a familiar face in Stroud where he runs a Saturday street stall to distribute his prints, produced in his workshop in the town centre at the Star Anise Café.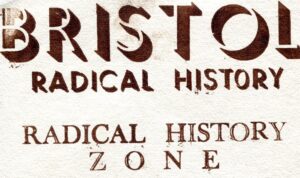 Appeared at: