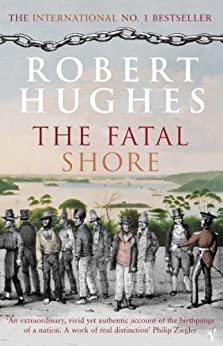 Anyone interested in the history of Australia during the eighteenth and nineteenth centuries would do well to read Robert Hughes's book. He describes in detail the development of the convict system and the colonisation of Australia from the first convict ship arriving at Sydney Cove in 1787 to the last convict voyage to Fremantle in 1868.
With intensive research he has given the convicts a voice describing their own experiences of suffering, survival and resistance during that period.
Robert Hughes, as an Australian, gives the reason for writing this book is that he realised the convict history had been ignored in that country, not taught in schools and only vaguely taught in universities. The idea that their ancestors were criminals was not talked about. The voices that were heard, during the Boer War and WW1, ' usually working class and commonly Irish'  pointing out that they had been shipped out of Britain as criminals and shipped back as cannon fodder were criticised as 'unpatriotic'.
Hughes states that although many Australians were the children of convicts, who were hand-picked for their 'criminal propensities' they have evolved into one of the most law-abiding societies in the world which scotches the eugenics argument of hereditary disposition.
Maureen Ball August 2020