Bristol Radical History Festival at M Shed
Bristol Radical History and the Remembering the Real World War One groups are teaming up to bring you the Bristol Radical History Festival on Sunday 17th September (10.30am – 4.30pm) at M Shed.
Bristol Radical History Festival brings together historians, history groups, publishers and the public for a day of talks, walks, puppet shows and readings, films, bookstalls and displays uncovering radical histories in Bristol, the South West and beyond.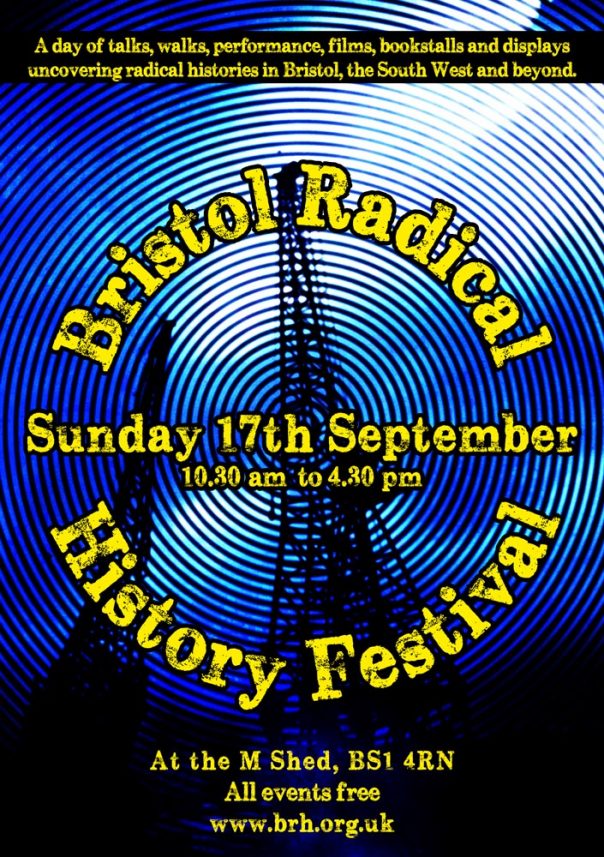 From mutinous Bristolian soldiers to rebellious anarchist women, from Bristol's underground networks of war resisters to its rioters of 1831 we promise a 'history-from-below' approach, with speakers and performers eager to share authentic glimpses of a hitherto undocumented past.
Two important anniversaries are also being celebrated at the Radical History Festival. It is 800 years since the Charter of the Forest was signed granting rights, privileges and protections for the commoner, something which has been central to recent and past struggles to protect the nearby Forest of Dean. It is also 50 years since the ground-breaking History Workshop project was founded, aimed at breaking down barriers between universities and local historians and researching working class 'history from below'.

A series of history talks are taking place in Studio 1 and 2 on Level 1 from 10.30am – 4.30pm.
Puppet shows, poetry and readings are taking place in the Life Gallery cinema space on Level 1 from 10.30am – 4.30pm.
History walks will be starting at M Shed at 11.30am and 4.30pm.

Twenty five bookstalls and displays are situated on the foyers of Levels 1 and 2.
Radical history videos will be showing all day on the Level 1 foyer.
Travel to M Shed
By Car
Important note: The Bristol Half-Marathon is taking place on Sunday morning so there are road closures in the city-centre (full details here). Direct access to MShed-Whapping Wharf by car will be restricted until 1.30pm. If you are travelling by car to the event please give yourself extra travel time and we advise:
parking south of the river and using the Commercial Road Bridge or Gaol Ferry Bridge to approach M Shed (5-10 min walk)
alternatively, you could park north of the city centre in the Trenchard Street,  Rupert Street,  St James Barton or Cabot Circus Car Parks approaching M Shed from Prince St Bridge (10-15 min walk). Details here.
By Train
From Temple Meads station it is a 15 min walk to M Shed. If you fancy a scenic route by river, another option is to take the Bristol Ferry Service from Temple Meads to Prince St Bridge.
By Bus
Bristol Bus Station will be operating as normal. It is a 15 min walk to M Shed.
Radical History Festival Programme
Note: events will be added to this list and there may be changes of times.
Date
Time
Title
Details
With
Link
, 2017



Studio 1: Women against World War One
Bristol women campaigning for peace in World War One [June Hannam] June Hannam will focus on women in Bristol who opposed militarism and sought a negotiated peace. The most high profile activists were […]
June Hannam,
Bernadette Hyland
More
, 2017



Studio 2: Bristol and the arms trade
A look at the early development of Bristol's aeroplane industry and how Bristol planes helped 'police' the empire in the interwar years. Special reference to Afghanistan, Iraq and Aden (Yemen).
Jo Baker
More
, 2017



Level 1, foyer: Radical History Video
BRHG/RRWW1 recreations and other local radical history films screened by Pauper Film Productions in the Level 1 foyer, including: James Nayler: Recreation of the march into Bristol and trial of […]
More
, 2017



Studio 1: Black Lives in A White Man's War
Few historians mention that both the first and last campaigns of World War One took place, not in Europe but in Africa. In 1914, all of sub-Saharan Africa, except Ethiopia and Liberia, was in the […]
Silu Pascoe
More
, 2017



Studio 2: 'History should be common property'
The History Workshop movement was a grassroots coalition of radical-academic, feminist, amateur and labour historians, which was founded at Ruskin College in the late 1960s under the guidance of the […]
Ian Gwinn,
John Lasdun
More
, 2017



History Walk 1: Edward Colston
Starting with St Mary Redcliffe church, this walk takes in other historic Diocese of Bristol churches in the city centre where 'the life and work' of Edward Colston is still provided religious […]
Mark Steeds,
Christine Townsend,
Ros Martin
More
, 2017



Life Gallery, Level 1: 'Taking a Holiday' puppet show
A story of struggle during the First World War - full of intrigue, escapes, comradeship...and bikes. Recommended for adults and older children. Three showings at: 11:30am, 1:30pm and 3:30pm in the […]
Otherstory
More
, 2017



Studio 1: Refusing to fight
Conscientious Decision-Making [Lois Bibbings] This talk gives a brief insight into what First World War conscientious objectors to military service meant when they talked about 'conscience' or the […]
Lois Bibbings,
Cyril Pearce
More
, 2017



Studio 2: Bristol Radical History Group highlights
A series of 10 minute 'taster talks' covering recently or soon to be published Bristol Radical History Group texts. These include: Lady Blackshirts: The Perils of Perception – suffragettes who became […]
Rosemary L Caldicott,
Mike Richardson,
Mark Steeds,
Stephen E. Hunt,
Roger Ball
More
, 2017



Life Gallery, Level 1: Dorothy and Archibald
A performative reading of the tragic tale of Private Archibald Knee and Dorothy Beard who died together in 1916: a mutual suicide of two victims of the First World War. Stuart Butler and Rachel […]
Rachel Simpson,
Stuart Butler
More
, 2017



Studio 1: John Maclean and The War After The War
This talk places John Maclean's pamphlet The War After The War in its broader international and political context. Exploring connections (and differences) between the various international socialists […]
Jim Slaven
More
, 2017



Studio 2: 800 Years and Counting
The Forest of Dean in Gloucestershire - royal larder or people's larder? The Charter of the Forests, a lesser-known but wider-ranging companion to the Magna Carta, confirmed any "freemen" or commoners […]
Owen Adams
More
, 2017



Life Gallery, Level 1: A Tribute to Heathcote Williams
A Tribute to Heathcote Williams, public historian of great English insurrections: excerpts from 'The Red Dagger' and 'The Invisible Captain Swing'. Poetry recited by Ciaran Walsh.
Ciaran Walsh
More
, 2017



Studio 1: Mutiny
The biggest revolt in the history of the British Army occurred during 1919 involving hundreds of thousands of soldiers. Massive mutinies by stroppy soldiers humiliated generals, terrified politicians […]
Julian Putkowski
More
, 2017



Studio 2: Wales and Socialism Before the Great War
Socialism, which presented itself as a new and exciting ideology in the Britain of the 1880s, was essentially universalist in nature. It proposed a set of solutions to the problem of capitalism that […]
Martin Wright
More
, 2017



Studio 1 & 2: Three British Anarchists in America
This talk examines the lives of three British migrants who became Individualist anarchists and part of the network around the journal Liberty. The Bristolian activist and poet, Miriam Daniell was a […]
Sheila Rowbotham
More
, 2017



History Walk 2: Riots, Massacres and Reform 1700s-1832
This 1.5 hour walk in the centre of Bristol takes us through a century of working class history, charting the path of the 'crowd' from the 'moral economy' of the 1700s, through the effects of the […]
Steve Mills
More