In case you missed them…  we will repeat our screening of two films relating to the events of 1919. Screening times are approximate.
Tiger Bay Is My Home (early 1980s, Colin Prescod, 39 minutes)
One of four films in Colin Prescod's 'Struggles for Black Community' series, Tiger Bay is my Home shows that in 19th century Cardiff as in other ports Black communities began with Black colonial seamen. The Tiger Bay community faced official, as well as everyday physical harassment, which culminated in race riots in 1919 and a scheme for repatriation. But the community stood its ground, and so the people of Butetown lived through the Depression of the 1930s, and many of them served and died in world War Two. [description from Institute of Race Relations]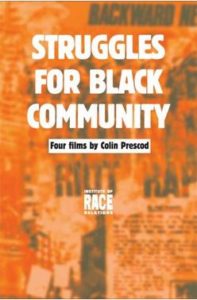 Versailles 1919: Return of the Dangerous Women (2019, Charlotte Bill, 20 minutes)
This documentary tells the story of the women who met to protest the terms of the Versailles Peace Treaty in 1919. Drawing from the international campaign to get the vote, they wanted to prevent all future wars. They became the Women's International League of Peace and Freedom (WILPF) which is still working today.
Versailles 1919: Return of the Dangerous Women is a short documentary (20 minutes) directed by Charlotte Bill and made by Clapham Film Unit, a collective of filmmakers working with communities to tell stories not told elsewhere and funded by the European Commission. It was researched by and features volunteers from the Women's International League for Peace and Freedom (WILPF). [description from LSE Library]