Bristol Radical History Festival 2019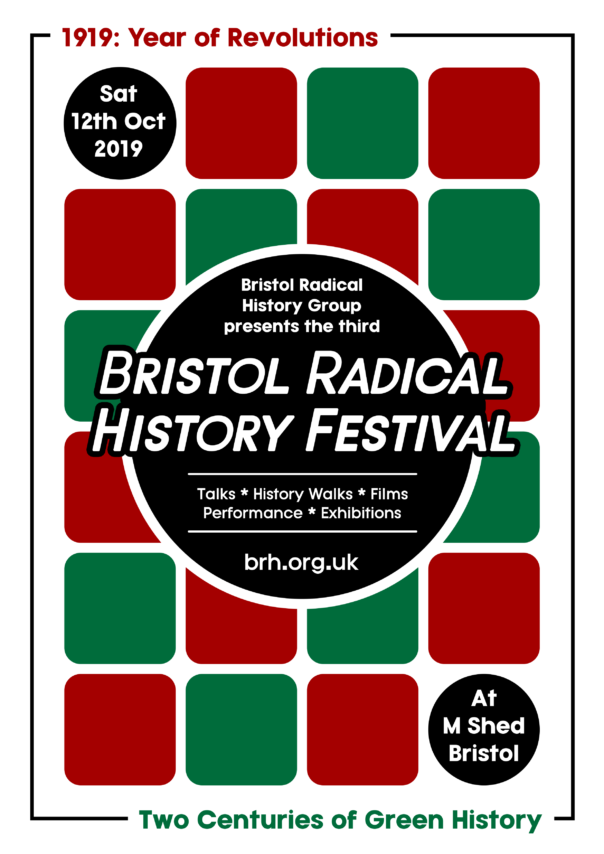 Bristol Radical History Group (BRHG) and the Remembering the Real World War I Group (RRWWI) have organised a full programme of events, in collaboration with our hosts at M Shed.
Again, we will reveal hidden histories, debate and agitate for a future of better pasts. The 2019 festival has two main themes:
1919: Britain and Ireland in the 'Year of Revolutions'
Green History: from 18th Century roots to Extinction Rebellion
The aftermath of the First World War was one of the most revolutionary moments in the Twentieth Century. Following the Russian Revolution of 1917, there were revolutions and uprisings across Europe, in Germany and Hungary, and beyond, in Egypt and Mexico. In Ireland, 1919 would witness the establishment of a separatist parliament in Dublin, an escalation of guerrilla warfare and the establishment of a 'soviet' in opposition to British rule. In Britain, these were tumultuous times as thousands of rebellious troops returned from the front-line demanding immediate demobilisation, whilst mass strikes broke out on the railways and amongst miners and engineers threatening a syndicalist takeover. We look at what happened, what was at stake and the legacy of the 'Year of Revolutions' in Bristol, Britain and Ireland.
Our second theme features the history of concern for the environment. We will cover more than two centuries from origins of 'green' awareness during the Romantic era through to first-hand accounts from those who took part in late-twentieth-century activism and Black2Nature, who campaign for inclusion and ethnic diversity in environmentalism. How can green history inform present-day debates during the resurgence of environmental concern on the part of Extinction Rebellion, Youth Strike 4 Climate and Earth Strike?
Following the success of the 2017 and 2018 events, this year's Bristol Radical History Festival is again hosted by M Shed, Bristol's social history museum located on the historic harbourside.
It's not just talks! Expect walks, films, singing, a performance space with a puppet show, storytelling and poetry, and an exhibition space, as well as stalls with books and merchandise from local and national groups. Not to be missed – go up to Level 2 to see the Regional Radical Press exhibition, with highlights from UWE Bristol Regional History Centre's current project  All the events are free with no booking required!
We are also thrilled to announce a tie-in event: '3 Acres and a Cow: A History of Land Rights in Folk Song and Story'. This will be hosted at Bristol's Cube Microplex on the evening of Friday 25th October.
Stalls
Active Distribution • Anarchist Communist Group • Black Skin Black Flag • Bloom and Curll Bookshop • Bristol Radical History Group • Bristol Transformed • Fiducia/Long John Silver Trust • Haymarket Books •  Just Seeds • Mayflower Mavericks • Our Chartist Heritage • Past Tense  • RRWWI Group • Tangent Books • Unite Community • Wessex Solidarity • West of England and South Wales Women's History Network
Full Radical History Festival Programme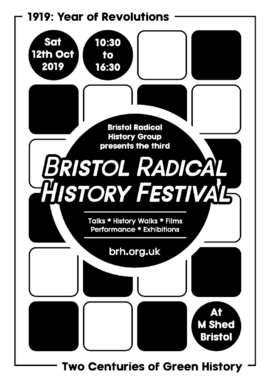 Date
Time
Location
Title
Details
With
Link
, 2019
Film tie-in event: American Climate Rebels
With post-film discussion with film makers Shaun Dey and Fliss Premra. Description from the Cube Microplex: "A screening of films made by video activist collective Reel News during their tour of North […]
More
, 2019
Level 2
Regional Radical Press in Britain 1968-88 exhibition
From the late sixties to the mid-eighties, small, co-operatively produced local and neighbourhood papers played an important role in grassroots radical politics across the British Isles. Some achieved […]
Steve Poole
More
, 2019



Level 1, Studio 2
Green Romanticism
Stephen Hunt of the Bristol Radical History Group will start the day with an overview of the ecology movement's roots in the Romantic era. Industrial capitalism emerged together with the mass […]
Stephen E. Hunt
More
, 2019



Level 1, Studio 1
Wild scenes at Cardiff
'Wild Scenes at Cardiff' reads the South Wales Echo headline; 'Blacks Hunted By a Furious Mob' in the South Wales News. In June 1919, Cardiff was the scene of four days and nights of violent unrest […]
Mike Pearson
More
, 2019



Level 2
Film screenings on 1919
Tiger Bay is my Home; Versailles 1919 Return of the Dangerous Women; Last Clarion House
More
, 2019



History walk 1: Wulfstan to Colston and the sinews of slavery
Starts and leaves outside of the front of M Shed. Our first stop will be outside of the Merchant Venturers' Almshouses (at the Broad Quay end of King Street), where the Merchant Venturers successfully […]
Mark Steeds
More
, 2019



Level 1, Performance space
The draining of the mere
A storytelling that demonstrates, however benign the technology, it is who owns and controls it that matters. A narrative that recounts the conflict between the rich landowners who want to tame and […]
Otherstory
More
, 2019



Level 1, Studio 2
Black2Nature's Mya-Rose Craig on the conservation sector: its foundations and its racism
Mya-Rose will talk about the foundations of the conservation sector and how racism was pervasive from the beginning and continues to this date. The nineteenth-century context will begin with Darwin […]
Mya-Rose Craig
More
, 2019



Level 1, Studio 1
"With all the resources at the disposal of the State"
This talk will explore the various tensions that existed within the Cabinet's Industrial Unrest Committee, and its various sub-committees, as government officials sought to confront the different […]
Philip Kuhn
More
, 2019
Level 2
Talk on Regional Radical Press in Britain 1968-88 exhibition
Prof. Steve Poole (UWE Bristol) will give an overview of the Recovering the Regional Radical Press in Britain 1968-88 project, highlighting the publications in the exhibition on Level 2. "From the […]
Steve Poole
More
, 2019



Level 1, Performance Space
How do you articulate a working class political consciousness in the context of 1919?
Graham Bottrill will talk about his novel 'The Sword & the Sickle' and the research that led him to write it. The novel explores the emerging political consciousness of a working class soldier, […]
Graham Bottrill
More
, 2019



Level 1, Studio 2
Ecology from below
The eighteenth and nineteenth centuries witnessed widespread attempts to 'privatise' rural England. By enclosing common land and extinguishing customary rights, rural elites sought to physically […]
Leonard Baker
More
, 2019



Level 1, Studio 1
Ireland in 1919
'England's difficulty is Ireland's opportunity': How Irish Nationalism responded to the Great War Joe Mooney (East Wall History Group, Dublin) This talk will outline the difficulties of the 'Irish […]
Joe Mooney,
Dee Daley,
Nick Heath
More
, 2019



Level 2
Film screening: Who Bombed Judi Bari?
Screening time is approximate. Who Bombed Judi Bari? (2012, Mary Liz Thomson, 95 minutes) "This feature documentary filled with music, humor, and inspiration is a blueprint for activism in these more […]
More
, 2019



Level 1, Performance space
A people's history of poetry
Hot-foot from Edinburgh Fringe Festival, Bristol's Pete Bearder will be sharing perspectives on the radical history of performance poetry, based on his recent performance work. His ground-breaking new […]
Peter Bearder aka Peter the Temp
More
, 2019



Level 1, Studio 2
Environmental activism in the 1980s and 1990s
The present-day ecology movement emerged among the new social movements of the 1960s and 1970s. Its immediate influences were varied. They included the Aldermaston marches of the late 1950s and the […]
More
, 2019
Level 2
(Repeat) Talk on Regional Radical Press in Britain 1968-88 exhibition
Prof. Steve Poole (UWE Bristol) will give an overview of the Recovering the Regional Radical Press in Britain 1968-88 project, highlighting the publications in the exhibition on Level 2. "From the […]
Steve Poole
More
, 2019



Level 1, Studio 1
Bridport 1919
At the start of World War One Bridport was essentially a one industry town: rope and net making. The war brought opportunities to the town but also challenged paternalist employers with a revival of […]
Karen Hunt
More
, 2019



Level 2
Film screening: Reclaim The Streets: The Film
Screening time is approximate. Reclaim The Streets: The Film (various, c1998, 50 minutes) Reclaim The Streets was a prominent 1990's network of collectives that organised mass street parties to […]
More
, 2019



Level 1, Studio 2
Back to the land
In 1973 Kath Holden helped found a small commune based on a 135-acre dairy farm in West Wales. She went on to become a smallholder in the same area and disputed her entitlement to common grazing with […]
Kath Holden
More
, 2019



Ground Floor
Red Notes Choir performance
Catch the Red Notes Choir, who will support the Bristol Radical History Festival by performing on the Ground Floor by the M Shed main entrance. The Red Notes Choir is a Bristol-based socialist choir. […]
More
, 2019



[Cancelled] History walk 2: Romantic, Radical and…Reactionary
Update 11/10/2019 Unfortunately, Molly is currently unwell so it is unlikely that this walk will go ahead tomorrow. This walk explores how ideas of the environment have evolved in the modern […]
Molly Conisbee
More
, 2019



Level 1, Performance space
Roots of Resistance: Earth First!
A live animation show celebrating twenty years of the environmental direct-action network Earth First! It gathers together the stories of many activists – from the treetops of Newbury to the tops of […]
Otherstory
More
, 2019



Level 1, Studio 1
Strikes and riots
"We want out" - Bristol and the British armed forces strikes of January 1919 Roger Ball The massive wave of discontent which swept through the British armed forces at the end of World War One remains […]
Roger Ball,
Neil Gordon-Orr
More
, 2019



Level 2
Film screenings on 1919
Tiger Bay is my Home; Versailles 1919 Return of the Dangerous Women
More
, 2019



Level 1, Studio 2
Reflections on Radical Technology in the 1970s
Peter Harper coined the term 'Alternative Technology' in 1972 and became Head of Innovation at the Centre for Alternative Technology (CAT). During the mid-1970s, he co-edited Radical Technology, a […]
Peter Harper
More
, 2019



3 Acres and a Cow: A history of land rights and protest in folk song
Connecting the Norman Conquest and Peasants' Revolt with fracking, our housing crisis and Brexit via the Enclosures and Industrial Revolution, the show draws a compelling narrative through the […]
Katherine Hallewell,
Robin Grey
More