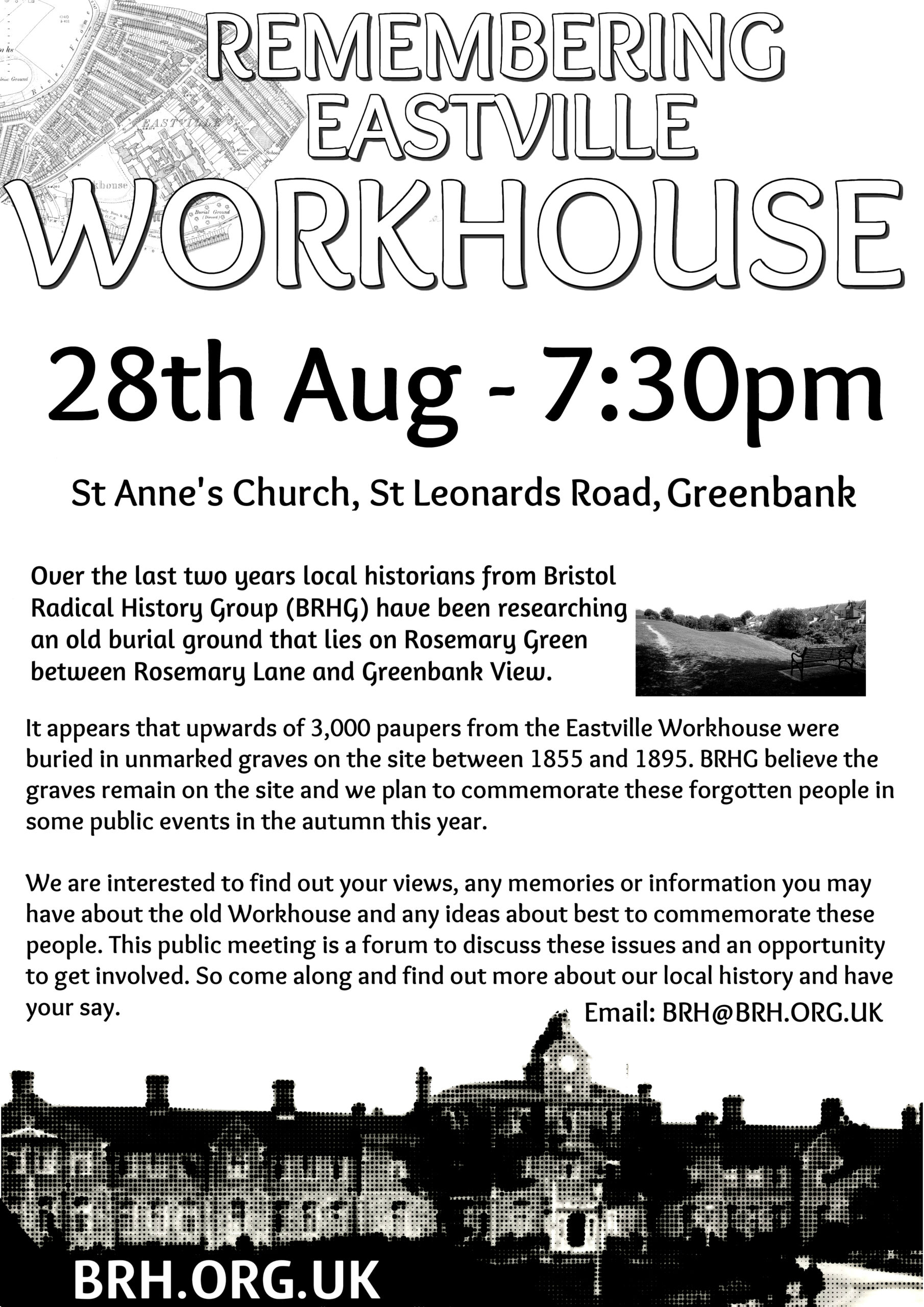 Eastville Workhouse Memorial Group (EWMG) was formed in 2014 after a public meeting with residents of Eastville and Greenbank in East Bristol. The primary aim of the group was to research and publish the names and details of the inmates from Eastville Workhouse who were buried in unmarked pauper graves at Rosemary Green. Information on the more than 4,000 burials was published in 2015 and is available on this website. In the two days after its release more than 3,000 people down loaded the data. Over the succeeding years many people researching their family history have been helped by EWMG to find the final resting place of their relatives.
The secondary objective of EWMG was to fund-raise for memorials for the pauper burials and to mark the location of Eastville Workhouse. This was achieved by the unveiling of:
The research carried out by EWMG and BRHG into the history of Eastville Workhouse and the pauper burial ground at Rosemary Green was published in the book 100 Fishponds Road: Life and death in a Victorian Workhouse now in its third edition (2020). A short video of the project, made by film students from UWE in 2016, has been watched by 27,000 people on Youtube.
As the main fund-raising efforts of EWMG are now over we have decided to close down the bank account and publish the accounts of the group for the years 2015-2020. You can down load them here.
It has been proposed to maintain the memorials through the help of volunteers and the funds of Bristol Radical History Group.  However, this does not mean that our interest in Eastville Workhouse and Rosemary Green is over. Far from it:
BRHG members are currently working on material for schools projects on the Eastville and Bedminster workhouses, with the advice of local teachers. This will be published on the Bristol Radical History Group website.
A new project is being launched to survey Eastville Workhouse inmates buried in unmarked graves in the nearby Greenbank Cemetery.
BRHG will continue with talks and walks on Eastville Workhouse, Rosemary Green and Greenbank Cemetery.
BRHG will also continue to answer queries from people searching for their relatives in Rosemary Green and Greenbank Cemetery.
If you would like to help with these projects or have information that may be of use please contact BRHG at brh@brh.org.uk.
Thanks to the treasurers of EWMG, Trish Mensah and Gloria Davey and a massive thanks to all those who helped and funded this project over the last 5 years. You know who you are.