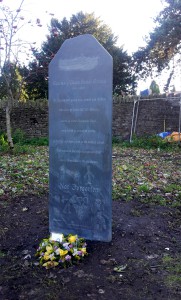 On this site over 4000 men, women and children who died in Eastville Workhouse, known as 100 Fishponds Road, were buried in unmarked graves. A further 118 were given to the medical school. This memorial stands in regognition of all who lived and died in the workhouse.
Read the programme from the memorial unveiling.
[map id="map" w="604″ h="400″ z="16″ scale="true" lat="51.4697747″ lon=" -2.5570988″ maptype="HYBRID" marker="yes" markerimage="https://www.brh.org.uk/logos/marker.gif" infowindow="Rosemary Green Burial Ground Memorial" infowindowdefault="no"]
Find out more about the Eastville Workhouse Project.