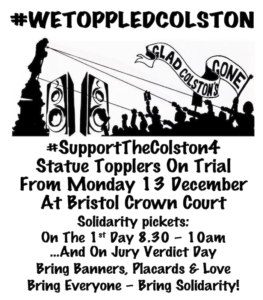 It's taken the vindictive British state and it's imperfect judicial system 18 months, but on Monday 13 December 2021 they will finally start the prosecution of just four, of the hundreds of protesters, who allegedly participated in the toppling of the Colston Statue way back on 7 June 2020.
That statue toppling happened in the midst of Bristol's huge Black Lives Matter protest, as once again angry Bristolians made history and kicked over the statues. Now it's time to stand again in support of these four young people, unfairly singled out for persecution. We stand solidly with the Glad Colstons Gone Coalition who have called this solidarity protest (see FB event):
We, the people of Bristol, toppled Colston.
Tens of thousands signed petitions.
Thousands marched.
Hundreds of thousands celebrated – in Bristol and across the world.

On December 13th, 4 people will start their trial at Bristol Crown Court. The trial is scheduled to last up to 8 days. There will be intense media attention on this trial: we want to show the world that Bristol is Glad Colston's Gone, that we're proud to finally have said goodbye to the veneration of a slave trader in the city centre!

Day 1: 8:30- 10:00am – show up, show your support!

Throughout the trial, supporters are invited to show up outside court in the morning, or to attend a session in the public gallery to exercise our right to scrutinise open justice.

It is important for the defendants that our presence outside court for the start of the trial is quiet and calm. We have been asked for legal reasons not to have speeches, chanting or fliers, and to keep our banners and placards to the theme of 'we're here in support of the people on trial'.
Please save broader information around Colston, historical information, loud outrage – and hopefully celebration, till the end of trial.

Day of verdict: we don't know which day the jury returns a verdict – but we know we want to be there when it happens! Check back for updates, and pencil in the 22nd/23rd December…

Let's show up in solidarity and show that Bristol supports the Colston Topplers!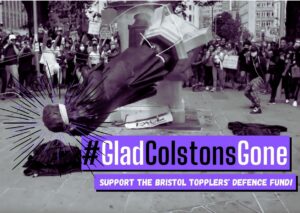 Over the last 18 months we have done what we can to support the Colston4 defendants, and to continue speaking truth to power by challenging the myths created around Colston by those who hold power and wealth in our city, and act consciously to maintain it. Make no mistake, the ruling elites locally and nationally, were shaken by events in the spring of 2020, and have responded in the only way they know how; by persecution, repression, and recuperation…by kicking the can (of change) ever further down the road – always with the sole interest of maintaining their own power and wealth.
Our focus at BRHG has always been on 'history from below', on recovering & sharing our own histories. This is a counter to the narratives spoon fed us throughout our lives, and ours and others actions and research rattle the skeletons they prefer to keep away in their cupboards. The toppling of Colston was not a one-off event, but merely the culmination so far of over a century of dissent & protest over the memorialisation of Colston. That has previously been ignored & dismissed by those with power, which has sadly included current Bristol Mayor Marvin Rees, and many more of our 'elected representatives' before.
We invite you to read our research and written work, about events & thoughts on the subject of Edward Colston.
We call for solidarity with the Colston Statue Topplers now, as we did back in June 2020.
We salute all those who had the courage to do this. And we must defend them to the hilt if the police come calling on the orders of Priti Patel.
BRHG Edward Colston project
Countering Colston website
Follow @gladcolstonsgone on Instagram & FB