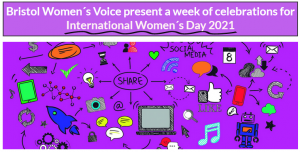 Bristol Women´s Voice present a week of celebrations for International Women´s Day (IWD) 2021. BRHG have organised a series of webinars as part of the IWD programme:

Friday March 12, 5 – 6 pm: Nautical Women: Women sailors and the women of sailortowns – Rosemary Caldicott
In her talk Rosemary Caldicott will explore the stories of women whose lives were inextricably linked to the sea. These include women of sailortowns struggling to keep out of the dreaded workhouse and resisting the prowling press gangs; and of the courageous and skilful cross-ressing women sailors who went to extraordinary lengths to hide their gender. Rosemary will discuss the women's motivation as well as their adventures and inevitable exposure. The stories of these women challenge our stereotypes of women in earlier societies by exposing their struggles against poverty and forced-labour and revealing the courage of those who 'ran away to sea'. More details and booking here.
Saturday March 13, 11 – 12 pm: Rebel daughter of a rebel mother, who opposed and fled Nazi Germany – Merilyn Moos
My childhood was unusual. My brilliant mother could hardly communicate with me. Once I got to university, I basically fled the paranoia and secrets of the parental home. It was only decades later that I started to fit together the pieces. I discovered that my mother had led an adventurous life: active on the left in pre-Nazi Germany, she had fled for her life almost immediately after the Nazis seized power and then was suspected as a spy by MI5 because of a trip to the USSR to meet her lover (though already married) and sent to Holloway Prison. But what had equally traumatised her was the 'disappearance' of almost all her family in Germany. When I was little, my parents wanted to put the past behind them, never to speak of it and for me to become a nice conventional English girl. But I too became a left-wing rebel at a time that few women were, though, despite being born here, I have never managed to completely discard a sense of displacement and dispossession, fueled I suggest by my being a woman. More details and booking here.
Saturday March 13, 4 – 5 pm: Mabel Tothill: Bristol Socialist, Feminist & Pacifist – June Hannam
June Hannam's talk examines the life and work of Mabel Tothill (1869-1964), a Bristol feminist, socialist and pacifist. How can we explain her political and personal journey from a comfortable middle-class background to her election as Bristol's first woman councillor on behalf of the Labour Party? She campaigned for women's suffrage, joined the socialist group the Independent Labour Party, and during the First World War was tireless in supporting Bristol's conscientious objectors. It will be suggested here that her political campaigns led her to see the causes of women, labour, and peace as intertwined and to believe that 'socialism and labour politics held the key to a better life for all'. More details and booking here.
Sunday March 14, 3 – 4 pm: A Goddess and a Leader in Prehistoric Crete – Lucy Goodison
It has often been suggested that Minoan Crete was at first a matriarchal society worshipping a Great Mother Goddess. And, as it developed, scholars have searched for signs of hierarchy and a Chieftain or King. But is there evidence for either of these figures? This talk suggests that, if we look with an open mind, the women-oriented society and religion of early Crete can be seen to develop in ways that may surprise us. More details and booking here.