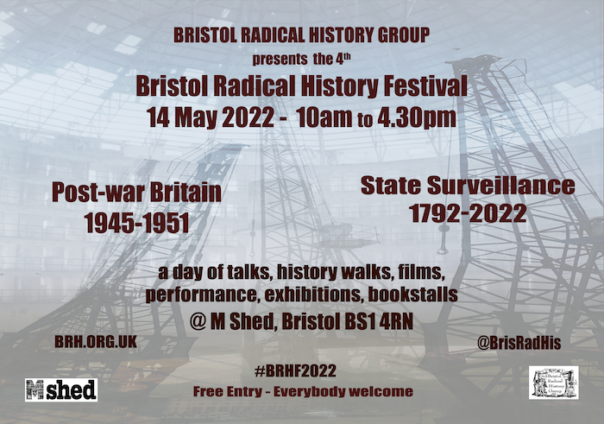 We are delighted to welcome people back to M Shed this Saturday, 14th May, for our 4th Bristol Radical History Festival. It's been a frustrating two years of delays and postponements due to covid since this was first planned, but now all systems are go! All are welcome – this is a free event, you do not need to buy a ticket. Here's the Directions to M Shed.
We have organised a full programme of events for our 2022 Radical History Festival, in collaboration with our hosts at M Shed. The Festival has two main themes, where once again we will reveal hidden histories, debate and agitate for a future of better pasts:
State and private surveillance of labour and social movements (1792 to now) – Studio 2 on Level 1
Hidden histories of post-war Britain (1945-51) – Studio 1 on Level 1

As you'll know, it's not just going to be talks, discussions and workshops! Once again we will have: history walks, films, singing, stalls with books and merchandise from local and national groups, and an exhibition –  visit the Level 2 foyer to see the Feminist Archive South's Politics and Protest: Posters from the Women's Liberation Movement exhibition.
These 2 images (click to expand!) give the full timetable of the Festival programme: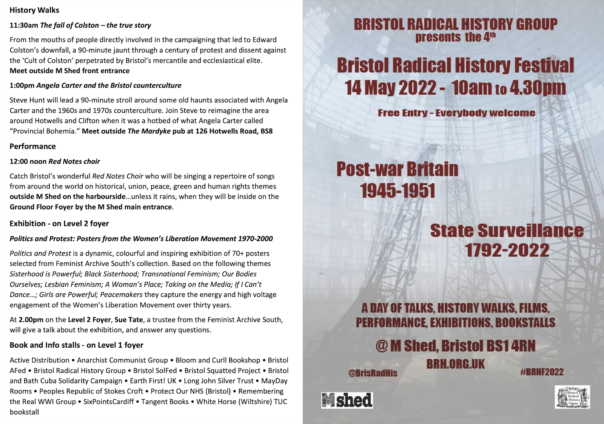 You can download & print the Programme: BRHF22_Programme_timetable and BRHF22_Programmecovers or you can pick up a printed programme at our Info Point in the M shed Reception area.
Plus you can read the full meeting and events descriptions, and speakers bios, on our website here – Bristol Radical History Festival. Publicity and Info can also be found via the #BRHF2022 FB event and @BrisRadHis on twitter.
Here, with meeting links, are just a few highlights of some of our great line up of speakers:
If you are looking for books on history, politics and much more, along with info and merchandise, we have 18 tables of stalls for you to peruse all day from 10am: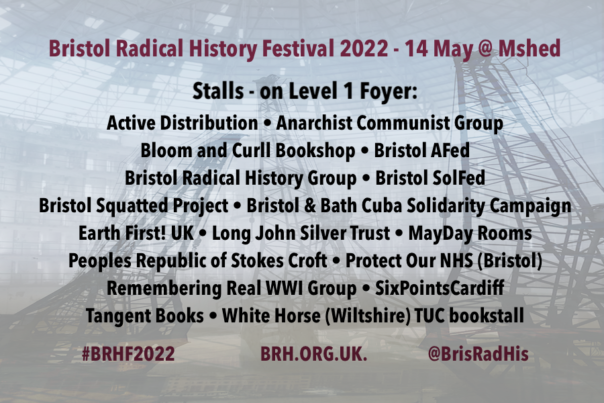 We look forwards to seeing you all this Saturday!