Part of the Trapese Popular Education Collective's 'Start Producing the Future'.
The walk will take in the scenes of some radical activism, both ancient and modern, and compare this with the actions of the 'mob'.
Why did a man on a donkey in Corn Street and a Cambridge geek befriending the landlord of the Seven Stars had such an impact on the World. Why did a mob burn down Queen's Square in 1831? Who ate all the pies in 1832? What caused the Bristol Bridge Riot. Which brave man (or could it possibly be a woman?) organised Bristol's defences against the Royalists?
About 1.4 miles of easy walking, all welcome. Starting from The Arnolfini.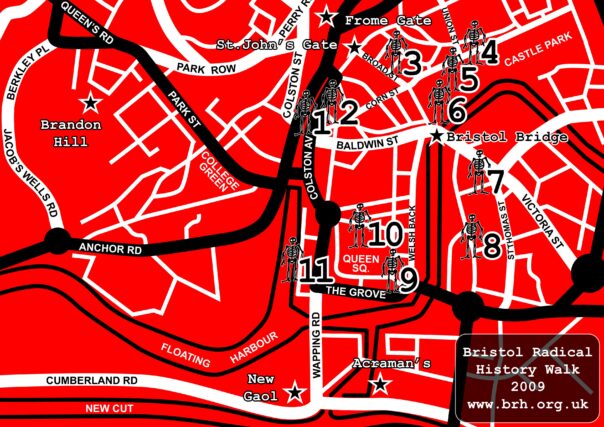 So, come for a little light exercise and learn about Thomas Clarkson, James Naylor, St. Wulfstan, Dorothy Hazard and various Bristol Riots.
Listen to this walk:
To follow the walk download the above audio files to an mp3 player and print out this map:
Watch this talk:.
The video should be here. Try turning on javascript or using a different browser.