There were three main phases of extension to the male franchise in the 19th Century. The ''Great Reform' of 1832 was preceded by a period of intense unrest in Western Europe. Roger Ball considers the impact these various social and political movements had upon the British ruling class and the first extension of the franchise. Dave Cullum analyses the popular pressure which led to the later Reform Acts of 1867 and 1884.
Roger Ball is an Easton Cowboy and a West Ham United fan. He has bored his fellow Cowboys with rants about history for years, the formation of Bristol Radical History Group has made their lives a lot easier. He is now an undisputed heavyweight in the history of riots from the 17th Century to the present day.
David Cullum was captain of the record breaking Easton Cowboys 2nd XI cricket team, connoisseur of fine ciders and author of Society and Economy in West Cornwall c1588-1750 (Exeter University, PhD thesis, 1994).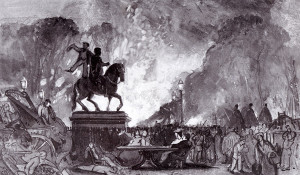 Watch this talk:.
The video should be here. Try turning on javascript or using a different browser.