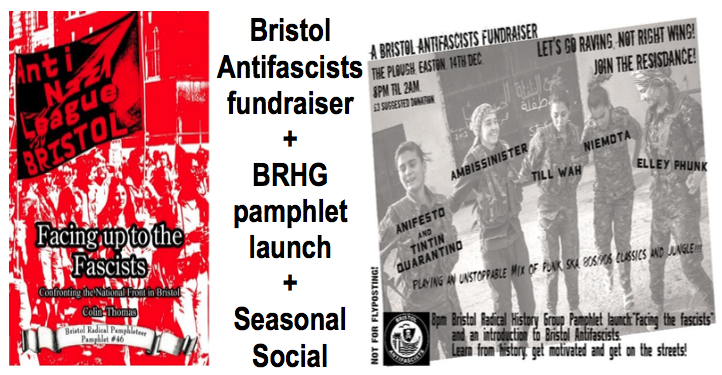 This Saturday there'll be post-election fun and games with a serious edge at this event – a fundraiser for Bristol Antifascists and the launch of a new BRHG pamphlet plus a seasonal knees-up – all in one night.
It's on Saturday 14th December, from 7.30pm, £3 suggested donation on the door, at The Plough, 223 Easton Road, Bristol, BS5 0EG – see Bristol Antifascists website and the FB event. The Bristol Radical History Group are asking their followers/supporters to come along at 7.30pm for the pamphlet launch at 8pm – author Colin Thomas will speak about his pamphlet, and will be followed by a speaker from Bristol Antifascists. From 8.30pm onwards until 2.00am, there'll be a crew of local DJ's playing "a liberated mix of punk, ska, 80s/90s classics and jungle!" Organisers are asking for a suggested donation of at least £3 on the door, to help fund the ongoing activities of antifascists (travel costs, legal costs & fines, antifascist info & publicity etc). If you can't come on the night, you can donate to this Bristol Antifascists online fundraiser. Thanks.
Colin Thomas's pamphlet 'Facing Up To The Fascists – Confronting The National Front in Bristol', covers the campaigns of the 1970s and early 1980s, tracing the reasons for the setting up of the Anti-Nazi League (ANL) and Rock Aganist Racism (RAR), and some of their key protests and actions at that time. It pulls no punches either as it identifies the origins of the NF going back to the 1930's; the situation of people from the West Indies and the racism they faced, and how they bravely responded; and the support the NF and others attracted.