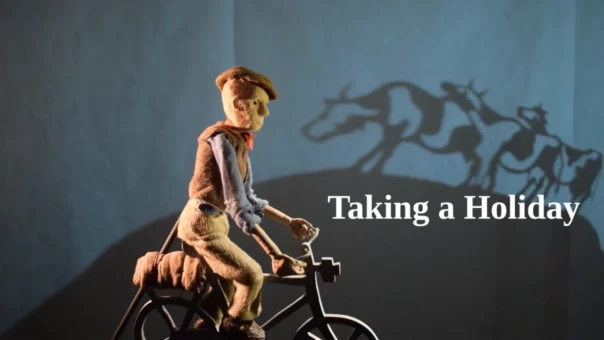 Otherstory will be presenting a first screening of our cinematic puppetry performance Taking a Holiday on Sunday 20th February at 7.30 pm. This online event will include a live post show talk by Professor Lois Bibbings (from the University of Bristol) on the historical context to the story told in the film. There will also be an opportunity to meet and put questions to the puppeteers.
Taking a Holiday tells the amazing story of the secret beneath a Bristol bike shop. It is a story of struggle in wartime – full of intrigue, escapes, comradeship…and bikes. What does it mean to be a refugee and on the run in your own country? Who will give you a bed for the night, a job… or a means of escape?
The film combines puppetry, shadow theatre, and documentary material to weave a cinematic tale based on the true stories of ordinary Bristol people in 1914-17, and the hidden history of the resistance to the war machine. The visual imagery is backed by wonderful music provided Jimmy Aldridge & Sid Goldsmith, Rosie Sleightholme and Anna Riggs.
Background
We have also written a booklet Steps Against War – Resistance to World War 1 in Bedminster which sets out the history behind the film.