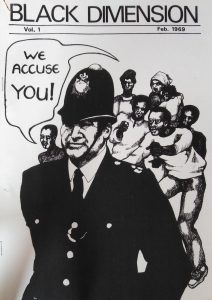 Black Power in Britain started in 1967, reached its apogee in 1971 and was in terminal decline by the mid-1970s. It was an expression of frustration, anger and – most importantly – resistance to the individual, institutional and state racism experienced by the postwar generations of black immigrants to Britain and their British-born children.
The British state took the threat of Black Power very seriously, both at home and across the Commonwealth. When an international conference on Black Power took place in British Protectorate Bermuda on 10-13 July 1969, the British government sent a warship full of marines to anchor off the coast in case civil disorder broke out. It also sent Special Branch officers undercover as conference delegates.
From the mid-1960s onwards the spectre of black uprisings in the form of the riots blazing across major northern American cities, haunted the British press and politicians. In an effort to stop such a thing happening here, Special Branch was instructed to use its powers of surveillance, infiltration and counter-intelligence against Black Power groups and activists and report back to the Home Office.
In this session, historian Rosie Wild and the Undercover Research Group's Eveline Lubbers  will sketch an outline of the British Black Power movement and explain why this small and relatively short-lived movement scared the British establishment so much. Uncovering the different ways the Metropolitan Police's Special Branch tried to spy on, infiltrate and disrupt London's Black Power groups, reporting back to MI5, they will explain how their efforts were ultimately hobbled by their own racism.
BRHG is inviting you to a scheduled Zoom meeting.
Topic: BRHG's Zoom Meeting
Time: May 26, 2021 07:30 PM London
Join Zoom Meeting
https://us02web.zoom.us/j/88132958121?pwd=S203cXJaWVFab05hcVNrUDNibUlodz09
Meeting ID: 881 3295 8121
Passcode: 881745