Move on over: From Countering Colston to Black Lives Matter
to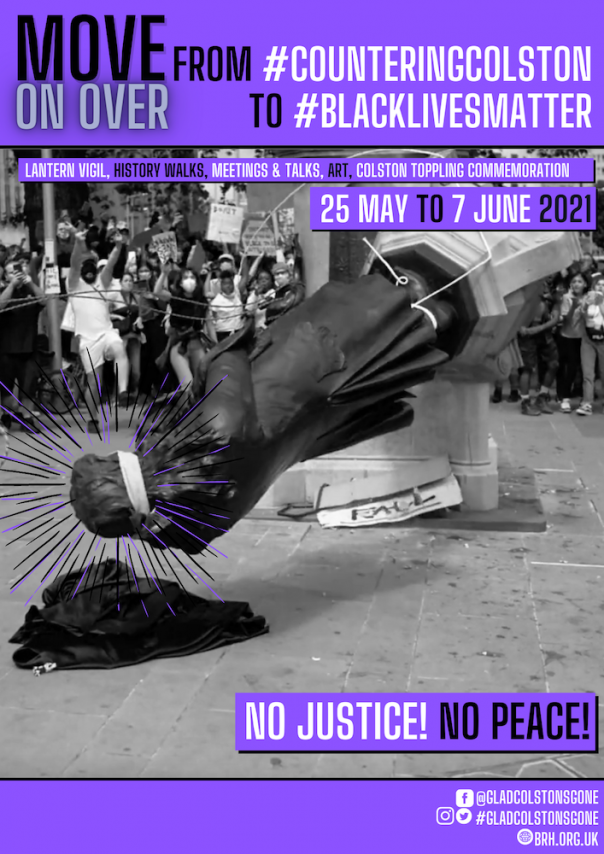 All over the world I've seen grandchildren of slave masters tearing down slave masters statues – over in England they put it in the river.

Reverend Al Sharpton speaking at the funeral of George Floyd in Houston, Texas, 10 June 2020.

Move on over …or we'll move on over you

US Black Panther slogan
May 25th is the first anniversary of the death of George Floyd at the hands of police in Minneapolis, USA which sparked off a resurgence of the Black Lives Matter (BLM) movement across the world. In Bristol, less than two weeks after Floyd's murder, hundreds of BLM protestors pulled down the statue of the leading slave-trader and city icon Edward Colston. An action which also reverberated globally.
One year on Bristol Radical History Group present a fortnight of events celebrating the success of local campaigns challenging the celebration of the slave trader Edward Colston by Bristol's elite institutions which culminated in the historic action of the Black Lives Matter movement last June.
Black communities and those who stand with them in Britain have never accepted racism and injustice without substantial resistance. That resistance has come in many forms creating a radical tradition, much of which remains obscured. These events reveal the radical opposition of Black communities in post-war Britain to racism and racist policing and analyse the consequent reaction of the British state.
All the events, history walks, talks, films and discussions are free but we will be asking for donations to support the Colston 4 defendants campaign – please donate to the crowdfunder Support the Bristol Topplers' Defence Fund! here.
These events are organised with the @GladColstonsGone – Coalition for Solidarity with the Colston Defendants (CSCD), Countering Colston, Tangent Books, Bristol Copwatch, the Institute of Race Relations, M Shed and The Cube Microplex.
Programme
The following programme of events will be updated regularly.
Date
Time
Title
Details
With
Link
, 2021



One Year On – Lantern Vigil of Remembrance
On the anniversary of the murder of George Floyd in Minneapolis by the police, a Lantern Vigil of Remembrance will be held on College Green, Bristol BS1. Floyd's killing re-ignited the Black Lives […]
More
, 2021



'Secret and delicate sources': UK Black Power and undercover policing
Black Power in Britain started in 1967, reached its apogee in 1971 and was in terminal decline by the mid-1970s. It was an expression of frustration, anger and – most importantly – resistance to the […]
Rosie Wild,
Eveline Lubbers
More
, 2021



State and Police Racism: The Making of a Hostile Environment in Post-War Britain
The term 'hostile environment,' coined in 2012 by Home Secretary Theresa May to deter "illegal" immigration, did not exist as official government policy during the 1950s, 1960s and 1970s but this […]
Winston Trew,
Rosie Wild
More
, 2021



History Walk: Edward Colston – why was he toppled?
Meet at 3.30pm outside M Shed, Princes Wharf, Wapping Rd, Bristol BS1 4RN Walk ends at Bristol Cathedral at 5.30pm (approx.) With the imminent launch of a so-called 'consultative display' featuring […]
Mark Steeds,
Roger Ball,
Christine Townsend,
Ros Martin
More
, 2021



The Hummingbird: the role of the the black bookshop in community self development
Never allow skin colour to get in the way. Our status in life was not ordained by God. It's an incident of history. Cathy Lecointe's aunt In 1985 the Hummingbird Bookshop situated in Grosvenor Road, […]
Ros Martin,
Cathy Lecointe
More
, 2021



Who will inherit the legacy of the Bristol Bus Boycott?
Lilleith Morrison and Richard Jones, co-author and publisher of Dr Paul Stephenson's autobiography Memoirs Of A Black Englishman (Tangent Books) ask, along with artists and activists, Ros Martin and […]
Richard Jones,
Lilleith Morrison,
Ros Martin,
Rob Mitchell
More
, 2021



Book Launch: From Wulfstan to Colston
Note: this is an online event organised by M Shed. Registration and booking is required via their website. Published a few days before the fall of Edward Colston's statue in June 2020, From Wulftsan […]
Roger Ball,
Spencer Jordan,
Mark Steeds,
Cleo Lake
More
, 2021



They don't protect us: A history of the police and monitoring groups
Note: this an online event organised by Bristol Copwatch. Advance booking is required, please pre-register here in order to attend this meeting. Bristol Copwatch with Institute of Race Relations […]
Bristol Copwatch,
Jessica Pandian,
Jasbinder S. Nijjar,
John Pegram
More
, 2021



History Walk: Severing the sinews of slavery in Bristol
Meet at 2.00pm outside M Shed, Princes Wharf, Wapping Rd, Bristol BS1 4RN Walk ends at Bristol Cathedral at 4.00pm (approx.) This history walk in Bristol City centre uncovers a 1,000 year history of […]
Mark Steeds,
Roger Ball
More
, 2021



Black Power – a British Story of Resistance with director George Amponsah 
Note: This online event is hosted by The Cube and requires booking. Details here. Join BAFTA-nominated documentary film-maker George Amponsah (The Hard Stop) in conversation with historian […]
George Amponsah,
Rosie Wild
More