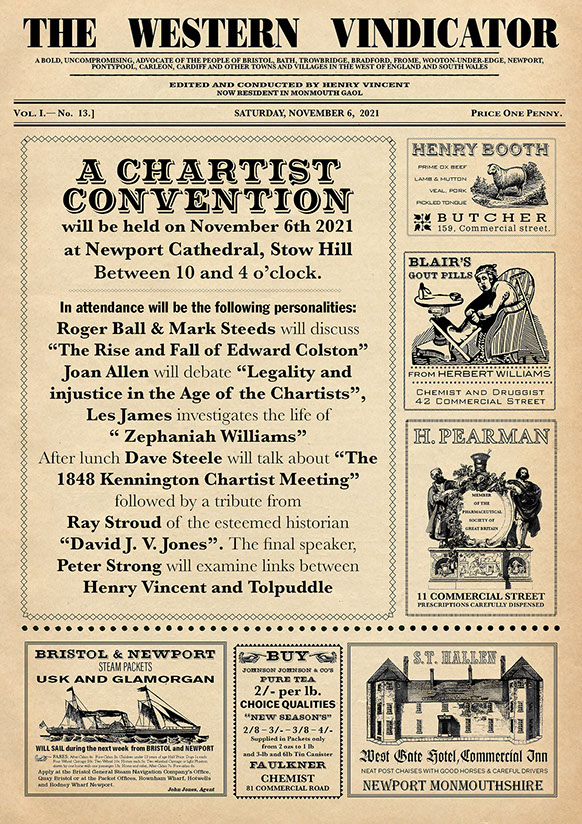 Court drama, pioneering photography and toppling statues…Newport Chartist Convention 2021
The annual Newport Chartist Convention will take place at St Woolos Cathedral 105 Stow Hill, Newport NP20 4ED, UK.
There is a full programme of lectures, with guest speakers including Professor Joan Allen on Legality and Injustice in the Age of the Chartists, with reference to Regina v Frost in 1840; Roger Ball and Mark Steeds will discuss the Rise and Fall of Edward Colston; and Dave Steele will look at the Kennington Chartist Meeting of 1848 using the famous photograph of the event. Contributions will also come from Convention regulars Les James on Zephaniah Williams, and Pete Strong on Henry Vincent and Tolpuddle, while Ray Stroud will pay tribute to David Jones, author of The Last Rising.
There will be a number of stalls, and lunch, tea and coffee are included in the admission price.The Cathedral is a large, well ventilated venue, and full Covid precautions will be taken.The buffet will be supplied in pre-prepared individual portions.
Tickets are now available, price £12.00. Booking details here.