Hesitant Comrades is the first book to explore the actions and attitudes of the British working class towards the Irish Revolution of 1916–21.With sources ranging from newly discovered writings to reports of police spies, Geoffrey Bell brings to light new evidence. He shows how the leaders of British trade unions were complicit in Belfast loyalist sectarianism and
he explores the troubled nature of the Labour Party's relations with its Irish community, and how the Bolsheviks criticised British Marxists over their inaction on Ireland. Participants examined range from Ramsay MacDonald to Sylvia Pankhurst.
Hesitant Comrades is a scholarly, provocative and groundbreaking perspective on the fragile relationship between the British left and the Irish revolution.
Geoffrey Bell was born in Belfast and has written extensively about Ireland and British attitudes to 'The Troubles', past and recent, for print, television and exhibitions. These include Protestants of Ulster and Pack Up the Troubles (C4).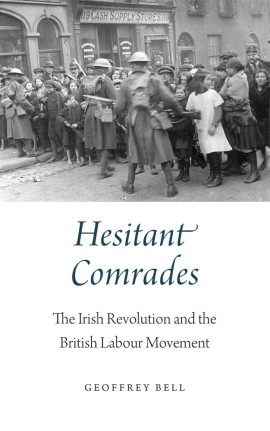 Watch this talk