During the Abolition bicentenary of 2007, Bristol Radical History Group commissioned a commemorative plaque to celebrate the anti-slavery campaigner Thomas Clarkson and the Bristol sailors who provided him with evidence of the horrors of the slave trade. Join us at the site of these momentous events, the Seven Stars Pub, for the unveiling of the plaque at lunchtime.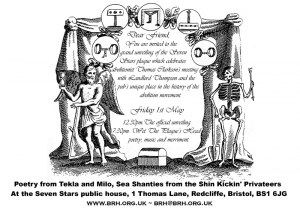 Watch highlights of the unveiling:
If you see this text the video has failed to play. Please let us know by emailing brh@brh.org.uk.