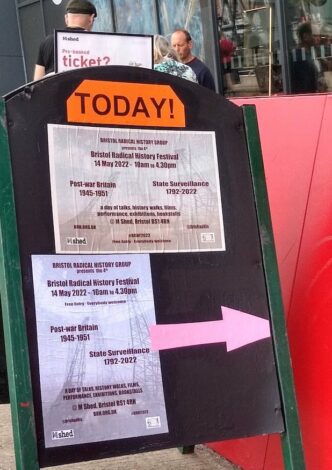 How time flies in the midst of the multiple global crisis of capitalism! A week ago our 4th Bristol Radical History Festival was just beginning, and we at BRHG were pretty pleased with how it all went, especially as we put it on at fairly short notice after the event was postponed due to covid in 2020 and 2021.
A big thank you to all the excellent speakers, to the radical history walk guides, the stallholders who came from near and far, the singing of Red Notes socialist choir, and the films we were able to show. Huge thanks to, to our hosts at Mshed social history museum, in particular to the helpful staff on duty, and of course our wonderful event facilitator Karen Garvey.
Big thanks too to everyone who came – listening and interacting with speakers and stallholders. Now we'd like to hear your feedback!
We'd appreciate your constructive comments, emailed to brh@brh.org.uk or via our contacts form. These could be about, but not limited to:
– individual meetings and speakers
– the two history walks
– the range of stalls and their content
– the films
– the info we provided, signage, access to the event and facilities available
Looking ahead, you might like to suggest 'themes' for the next and coming years, topics you'd like to know more about, and suggestions for speakers perhaps?
If your memory needs refreshing, the entire Festival programme is here. That includes links to stallholders websites if you want to know more about them and what they have available.
If you missed out on our own publications, you can see and buy our range of published local radical history books and pamphlets here.
Want to be more involved? We produce a monthly email listing our events, publications and news; or to be more involved we hold bi-monthly organising meetings to discuss research, upcoming publications, projects, events, and more. Please use our email brh@brh.org.uk or the contact form.
Thanks again everyone, and we hope to see many of you before our next Radical History Festival!