Here is a flyer for Indymedia's up and coming events: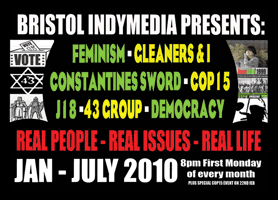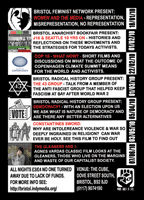 18/01/2010 Bristol Feminist Network Present: Women And The Media – Representation, Misrepresentation, No Representation.
01/02/2010 Bristol Anarchist Bookfair Presents: J18 & Seattle 10 Years On – Histories and reflections on these movements and the strategies for today's acrivists.
22/02/2010 Cop 15 – What Now? – Short films and discussions on what the outcome of Copenhagen Climate Summit means for the World and activists.
01/03/2010 Bristol Radical History Group Present: The 43 Group – Talk from a member of the anti-fascist group that helped keep fascism at bay after WWII. Find out more >>
05/04/2010 Bristol Radical History Group Presents: Democracy? – With an election upon us we ask what is the nature of democracy and are there any better alternatives.
03/05/2010 Constantine's Sword –  Why are intolerance, violence & war so deeply ingrained in religion? Can war ever be holy? See this film to find out.
07/06/2010 The Gleaners And I – Agnes Vardas classic film looks at The Gleaners, those who live on the margins and waste of our capitalist society.