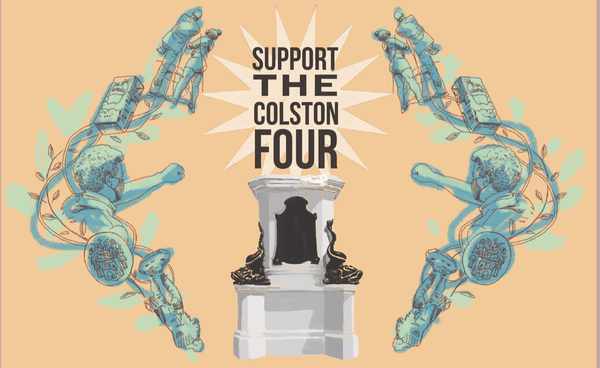 On the day of the first scheduled court appearance of the Colston 4, there will be a online film screening and conversations to provide a context for that event. January 25th, 2021 will see four defendants appearing at Bristol Magistrates Court on charges arising from the toppling of the Colston statue at a huge Black Lives Matter demonstration on June 7th 2020. That toppling reflected the frustration of many about the continued memorialisation and honouring of the slave-trader Edward Colston, despite years of campaigning to reveal the truth about his activities.
7.00 pm – Online Film Screenings
9.00 pm – Online Conversations
Black filmmakers have faced similar frustration and the screening will demonstrate the kind of talent the local film and television industry is only just beginning to wake up to. As well as video of the June 7th demonstration, it will include A Day To Remember on the Bristol Rising of 1980, CARGO's Uprising and We Are Not The Virus, part of the BBC's Culture in Quarantine series. All the films come via the Cube Cinema's online audio-visual platform.
Felling of Colston – Arthur Cauty (10:00)
Under The Bridge/Director – Shaun Sobers (24:00)
We Are Not The Virus – Michael Jenkins (04:06)
A Day To Remember/Director – Rob Mitchell; Producer – David Parker (28:30)
Uprising/Director – Lawrence Hoo, produced by CARGO (08:00)
This Hair Is Beautiful – Akousa Lune (05:14)
Carnival Time Again – Cleo Lake (04:40)

Colston Must Fall – A Historic moment for Bristol (01:57)
Anyone wanting to see the films please get a ticket to the Cube Cinema's digital platform. You will receive a link enabling you to see the films on January 25th at 7.00pm. Later that evening at 9.00 pm there will be on-line discussion with the filmmakers – Lawrence Hoo, Michael Jenkins and Rob Mitchell – chaired by Councillor Cleo Lake. A link to this online event will be provided to ticket holders 24 hours in advance.
"The film and television sector in Bristol …faces significant challenges about its lack of diversity. Representation of black and minority ethnic groups …is below the national average."Go West! report 2017