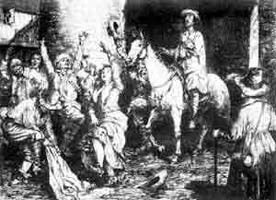 Be 'your own personal Jesus' and join in with the 'Hosannas' as James Nayler, his palm wielding Cancan Dancers and a troop of Roundhead pike and musketmen parade from the Centre via Corn St. to Castle Green. Refuse to 'doff your caps' to the agents of the Crown and celebrate freedom from the religious hierarchy.
Dress : Floppy Hats
Attitude : Blasphemous
If you see this text the video has failed to play. Please let us know by emailing brh@brh.org.uk.