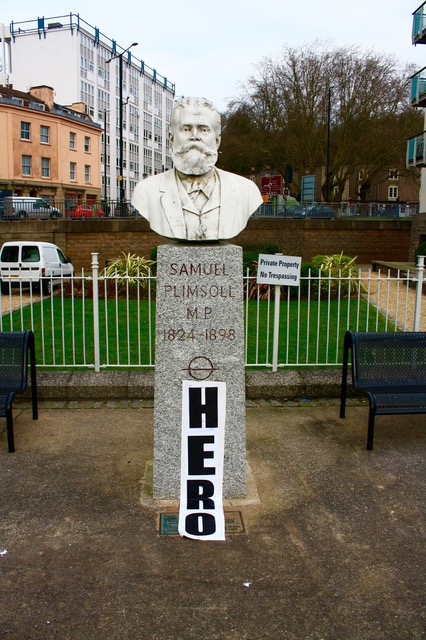 In 1871 alone, 856 British merchant ships were lost within ten miles of the British coast in conditions that were no worse than a strong breeze. Between 1870 and 1872, 1628 sailors were sent to prison in Britain for refusing to go to sea in ships that the sailors would refer to as 'coffin ships.'
On the dockside opposite the SS Great Britain stands the bust of Samuel Plimsoll MP and on it's plinth is engraved the 'Plimsoll Line'. This was a simple idea that showed if a ship was overloaded. Plimsoll was horrified by the loss of life at sea and campaigned for over 30 years to get shipping safety laws passed in Parliament. Like Lord Shaftesbury he was a philanthropic liberal but he mobilised huge crowds throughout Britain such as the demonstration in 1875 outside the gates of the East India Docks that was addressed by Annie Besant and Charles Bradlaugh.
In 1873 between 20 and 30 thousand people lined the streets of Bristol to watch Plimsoll's coach lead a parade 18 hundred strong made up of banner carrying shipwrights, boiler makers and seamen. One float in the parade bore a model of a wrecked coffin ship with the words 'pump or sink' chalked on its hull. So the Saint-Just Mob is unabashed to call a Liberal a hero. A simple contrast will suffice – compare the hundreds of thousands of lives saved by the Plimsoll line to the millions of lives lost in the Atlantic slave trade that made the fortunes of the likes of Colston.
Saint-Just Mob, July 2020