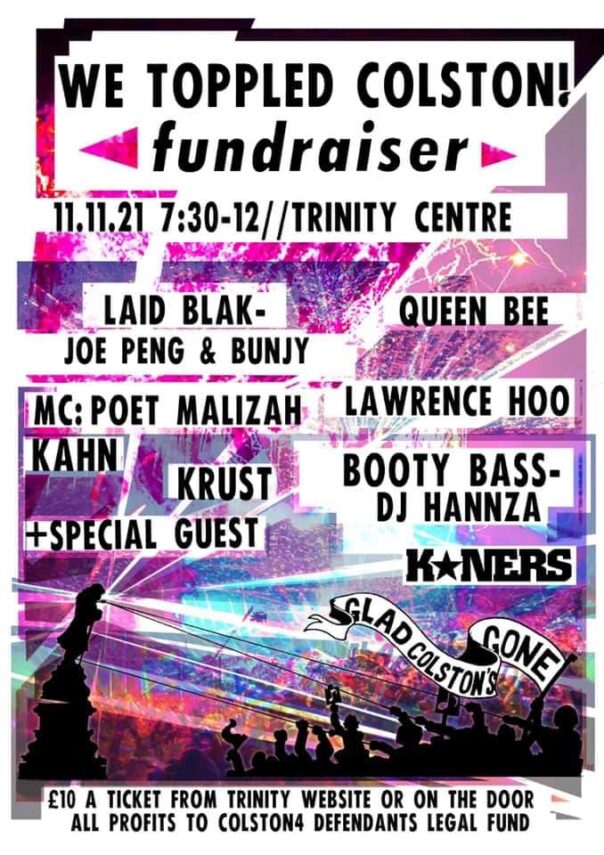 As the Trial of just four of the many hundreds of Colston Statue Topplers draws near, Bristolians are mobilising in their support. This Fundraiser at Trinity Center on 11th November is in support of the defendants and their Topplers Defence Fund, has been organised by Countering Colston and Glad Colston's Gone, and has the full backing of BRHG – we, Countering Colston and others will have stalls at the event.
As the organisers state in their FB event:
Let's show our support for those who have been wrongly singled out for toppling Colston's statue and enjoy some of Bristol's finest DJs and spoken word artists. Get on the dance floor!
Line up:
KRUST
Laid Blak DJ set with live PA performance from Joe Peng and Bunjy
K*ners
Kahn
DJ Queen Bee
DJ Hannza from Booty Bass
Lawrence Hoo, poet and co-founder of the Cargo project
+ a surprise extra special guest who will appear on the night!
After the party…join the protests!
The Colston 4 are due to go on trial at Bristol Crown Court at 10am on Monday 13 December, and upto 8 days have been set aside for this trial. Supporters are planning solidarity pickets outside the Court, see their poster below – we urge you to join them! The CPS (perhaps at the behest of the Tory Government?), are so keen to secure a prosecution that they have brought in a Queens Counsel (QC) to lead for them, an almost unheard of move in what is in reality a minor criminal damage case. In all probability, and rather like a Banksy painting, we strongly suspect the value of the toppled & damaged Colston statue has dramatically increased as it's infamy escalates. Perhaps Bristol Council, if they do indeed 'own' the statue, should be applauding the defendants, not providing evidence for the prosecution?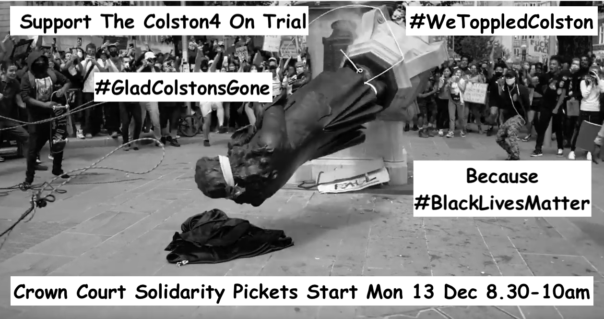 On the evening of the statue toppling back on 7th June 2020 during Bristol's massive #BlackLivesMatter protest, we stated in our article 'Kick over the statues….Colston is going…going…gone':
If pulling that statue down means young people can be proud and feel part of their city, then kick over the statues. We salute all those who had the courage to do this. And we must defend them to the hilt if the police come calling on the orders of Priti Patel.
The police, and the Tory media, did come calling. But many others, including BRHG, have continued to research, campaign and work in support of the defendants, to expose the myths around Colston and the Bristol elite's sordid leading role in profiteering from the transatlantic slave trade, and then cheerleading for Colston and his fellow capitalists. We hope that the Colston Statue Toppling has inspired & enthused you to learn more of the history, old & new, around these issues, and we encourage you to read for free our online work. Start with these:
Edward Colston: A century of dissent and protest (from 1920)
Our Edward Colston Project (collection of articles, events, research and more)