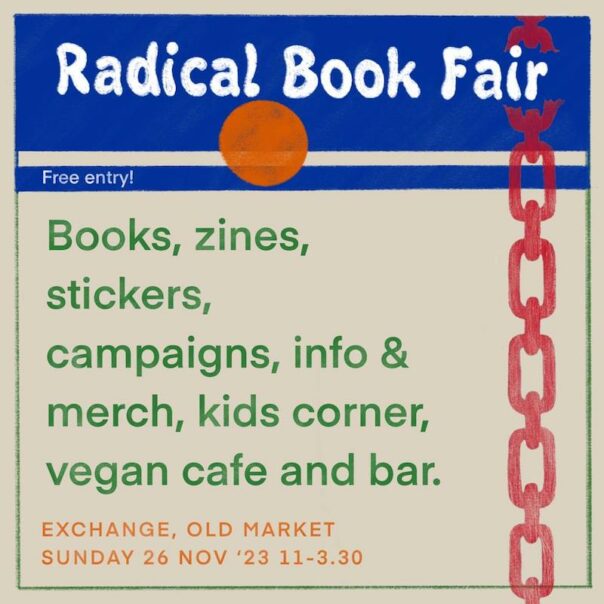 It's the time of year to subvert your friends and families with a range of radical gifts at the next Bristol Radical Bookfair on Sunday 26th November, 11-3.30pm.
Hosted again by Active Distro at the Exchange, 72 – 73 Old Market, Bristol, BS2 0EJ, it is of course a FREE event, cunningly timed to fit between the commercial scams that are Black Friday & Cyber Monday!
BRHG should have a full book stall, alongside a dozen or more others in the main hall; and down in the basement at 12.30pm, BRHG's Mike Richardson will give a talk on 'The Enigma of Hugh Holmes Gore – Bristol's Nineteenth Century Christian Socialist Solicitor'.
The Bookfair FB event explains what's on:
You'll find new and second hand titles, kids books, novels, calendars and more from radical publishers, zine makers and activists. Plus stalls from local campaigns groups and free talks in the basement room. AND vegan hot dogs, cakes, snacks, hot drinks, and beers available from the Exchange cafe. AND there will also be a small, self supervised kids space with books and toys.
Well behaved dogs are welcome. The main bookfair space is fully accessible (but the basement has steps down).
The Basement will hold a series of talks/workshops:


A little bit more on Mike Richardson's talk on 'The Enigma of Hugh Holmes Gore – Bristol's Nineteenth Century Christian Socialist Solicitor', based on his BRHG book of the same title:
The Anglo – Catholic convert to the left, Hugh Holmes Gore, was a key figure in Bristol's labour movement during the last two decades of the nineteenth century…His eloquence as a speaker moved dockers and miners and attracted working class votes in local elections. He was popular as the 'people's solicitor' and for his committed practical work in the community.
As a radical solicitor he gained a national reputation during the 1893 defence of Walsall anarchists on trial for a bomb plot instigated by a police agent.
His personal networks included well known left intellectuals such as the socialist artist and poet, William Morris, the advocate of homosexual freedom, Edward Carpenter, the sexologist Havelock Ellis and his wife Edith, as well as the arts and crafts designer, Charles Robert Ashbee.
However, in 1898 Gore vanished under mysterious circumstances. His friends' comments suggest a scandal, most probably because of his sexual attraction to men at a time when homosexuality was a criminal offence.
Mike Richardson uses original sources to reveal a Fabian committed to the formation of a parliamentary labour party who nonetheless defended militant trade unionists, anarchists and revolutionary socialists…
We hope to see some of you there – come have a browse and a chat!