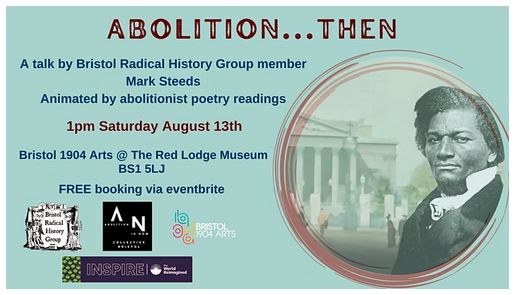 The Red Lodge Museum, Park Row, Bristol BS1 5LJ. Booking details here.
Bristol Radical History Group member Mark Steeds, author of Cry Freedom, Cry Seven Stars and co-author of From Wulfstan to Colston, is giving a talk animated by archive poetry readings to tell the international story of the movement towards abolition during the eighteenth and nineteenth centuries.
The lecture will begin with some history on African agency, starting with Nanny of the Maroons and followed by the 1736 Prince Klaas uprising in Antigua. Mark will then introduce early British abolitionists, leading with Olaudah Equiano's campaigning poem by Rob Mitchell, then a performance of Ann Yearsley's poem on "the Inhumanity of the Slave Trade" from Beccy Golding, followed by William Cowper's anti-slavery poem performed by Jonathan Evans.
We then journey back to the Caribbean to cover the Haitian revolution and follow with William Wordsworth's memorial poem in praise of Toussaint L'Ouverture. Abolition of the slave trade in 1807 is followed by Bussa and Nanny Grigg's rising in Barbados (1816) and the agonizing wait for immediate Emancipation – a call led by abolitionist Elizabeth Heyrick in the 1820s.
Bristol's 'slavery election' of 1830 and the Reform riots of October 1831 were followed closely by the Christmas Rebellion in Jamaica led by Sam Sharpe with Rob Mitchell recalling Sam's declaration "I would rather die on yonder gallows than live in slavery!" – concluding with the fight for full emancipation throughout the British empire which finally came in 1838.
New research has revealed that Bristol abolitionists didn't stop there, and continued their fight against slavery by befriending African-American abolitionists Frederick Douglass, William Wells Brown and the Crafts, Ellen and William when they came to Britain in the 1840s and 1850s. Many ordinary Bristol people contributed to Boston's Anti-Slavery Bazaar, raising much needed funds for the abolition movement in the States – Beccy Golding to read a poem that was attached to one of the bazaar's artefacts supplied by a women from Bristol's 'lower orders'.
The Crafts and Brown are featured in Mary Carpenter's Poetical Extracts book, one of Bristol's most treasured documents and of huge importance internationally. Mary finished her days at the Red Lodge after the US Civil War. The talk will finish with a poem in Mary's book from William Wells Brown (read by Rob Mitchell) and readings by Ros Martin (Ellen Craft and Sarah Parker Remond).
The talk will be followed at 3pm by a poetry workshop 'Abolition Is Now' Led by poet Saili Katebe.