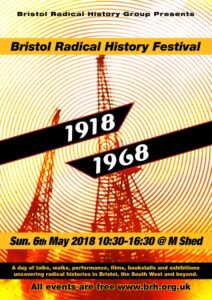 As the second Bristol Radical History Festival rapidly approaches, it is also worth doing a shout out for several other 1968 events happening in the coming weeks. Remember-Discover-Research-Critique-Celebrate-Commemorate-Repeat and Exceed the <événements> of May 1968!
Here's a quick round-up, but there will be others.
National and international events (Tuesday 1st May 2018 onwards)
Film screenings: '1968 Festival. A festival inspired by '1968' and organised by the Radical Film Network'
Details and programme available from the Radical Film Network website
Contact: lifflaura[@]riseup.net
Bristol (Sunday 6th May to Sunday 27th May 2018)
Film screenings: 'May '68: Film and the Revolution
Details available from the Watershed website
Contact: info[@]watershed.co.uk
Bristol (Tuesday 8th May 2018)
Discussion: 'Be Realistic, Demand the Impossible: May '68 in France'.
Details and contact on Bristol Counterfire Facebook
Bristol (Wednesday 16th May 2018)
Talk with multimedia and food: 'May '68: Revolution in the air', eye witness account by John Molyneux.
Details and contact for event at The Thunderbolt on Facebook.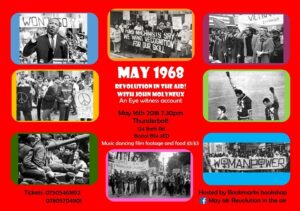 Nottingham (Sunday 3rd June 2018)
Afternoon of film and discussion with 1968 exhibition: 'Remembering the 1968 Revolts'
Details available from the It's in Nottingham website
Contact: Broadway Cinema Tel: 0115-9526611
London (Saturday 7th and Sunday 8th July 2018)
Events and activities: '1968-2018: A Celebration of 50 years of Resistance, Campaigning and Alternatives for A Better World – despite 50 years of police opposition, spying and repression'
Details from the Past Tense Blog entry
Contact: 50yrsevents[@]gmail.com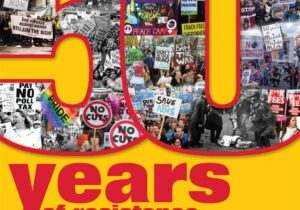 Liverpool (Friday 8th June 2018)
Conference: 'F*ck May '68, Fight Now: Exploring the Uses of the Radical Past from 1968 to Today'
Details available from the Women's Rights History website
Contact: fmay68fightnow[@]gmail.com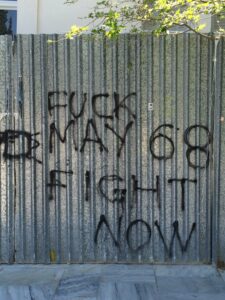 Happy Beltane! Happy May Day!