Three more of the British and Commonwealth soldiers executed during the First World War were remembered on Saturday at the Shot at Dawn Memorial within the National Memorial Arboretum in Staffordshire with a re-dedication service.
The Memorial, which was unveiled in 2001, commemorates men shot for disciplinary offences in recognition that the quality of justice they received was likely to be very poor, with no legal representation and a short trial, and that many were suffering from shell-shock, with some underage. In 2006 the Armed Forces Act pardoned most of the men who were executed during the war.
Andy De Comyn's Memorial includes a stake for each of the men, complete with a name tag. In front of the now 309 stakes stands the figure of a boy, blindfold, with hands tied behind his back, as if awaiting the firing squad.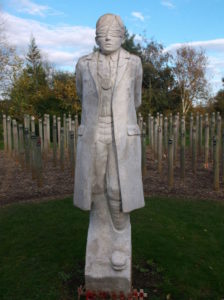 Saturday's event was about remembering all of these men but also to add stakes for Private Cecil James ' Jack' Braithwaite, 2nd battalion Otago Regiment (aged 31 when he was killed), Gunner William Lewis, 124th Royal Field Artillery (30) – both executed 29/10/1916, and Corporal Jesse Short, 3rd Tyneside Irish (24th Battalion Northumberland Fusiliers) (31)- executed 4/10/1917.
Proceedings also included the dedication of a bench in memory of John Hipkin who died earlier this year; who at the age of fourteen was the youngest POW of WW2, enduring four years of harsh imprisonment in Sandbostel. Hipkin's valiant efforts to fight for justice for the executed men significantly contributed to the pardoning and helped establish the Shot at Dawn Memorial.
On Tuesday (1st November) a Bristol commemoration and wreath-laying is being held for executed Bristolian Alfred Jefferies and his brother Arthur, who was killed in action. The men were born in St Phillips and grew up in The Dings. They were both victims of the Somme in 1916.
There is coverage of the event on British Forces News (the reports is 59 seconds from the start).
Prof LS Bibbings, University of Bristol
Victims of the Somme – A commemoration and wreath-laying is in Dings Park to remember Arthur and Alfred Jefferies on Tuesday 1st November 2016. Alfred was shot at dawn for desertion on November 1st 1916. Find out more…