Commemoration, Conflict & Conscience
to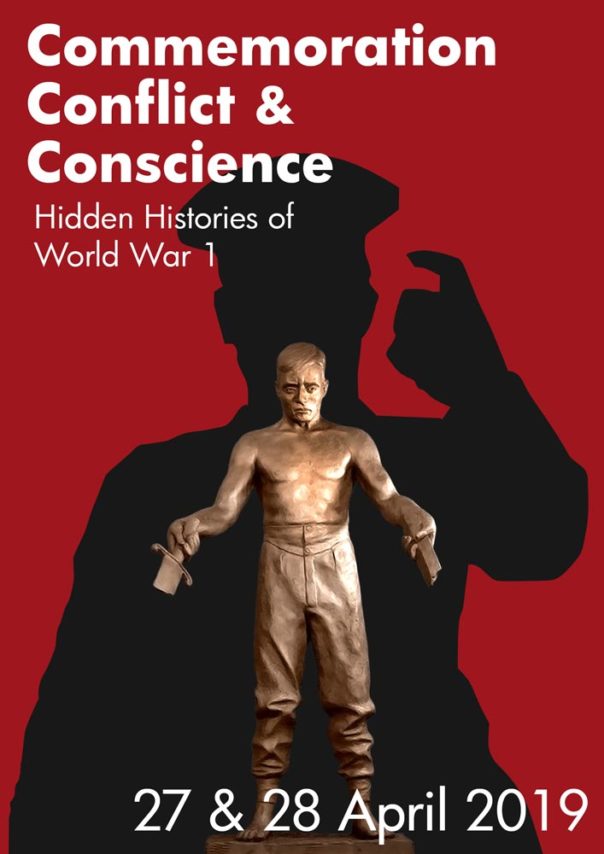 Details have been announced of the programme of talks, films, performance, exhibitions taking place as part of the Commemoration, Conflict & Conscience Festival. The main festival weekend is on Saturday & Sunday 27th & 28th April but some exhibitions are on at venues across the city for a longer period and there are some linked events taking place before and after the weekend.
Commemoration, Conflict & Conscience is a national festival which looks at hidden or lesser known stories of the First World War, legacies of the conflict, peace-building and alternatives to officially sponsored commemoration. Topics considered include: the Shot at Dawn campaign; conscientious objection to military service; strikes; mutinies, desertion and absenteeism; colonial experiences and impacts; women's peace activism; treatment of veterans; a century of opposition to war; alienation from commemoration.
At Bristol's M Shed museum, this free weekend festival (27th-28th April) will bring together community groups, local historians, academics, campaigners, activists and performers from across the country. The festival includes exhibitions, performances, talks, films, music, community projects, history walks and a puppet show.
Highlights include Cyril Pearce, one of the foremost researchers into WW1 conscientious objectors, Janet Booth who has campaigned to clear the name of her grandfather who was shot for desertion, Piet Chielens of the 'In Flanders Field' museum and many others. On the evening of 27th April at the SouthBank Club, Paul McGann will be in conversation about his appearance in the classic BBC TV series 'The Monocled Mutineer'.
The festival is being organised in Bristol with the help of the Remembering the Real World War One history group.
All the events will be listed below but keep an eye out as more are being added every day.
M Shed Rooms: Studios 1 & 2 are on the 1st Floor, Rooms 1-3 are in the Events Suite on the 2nd Floor.
Evening events on Saturday 27th are at the Southbank Club, Dean Lane, BS3 1DB.
You can follow the festival on Facebook here and on Twitter here
For more information email rememberingrealww1@gmail.com