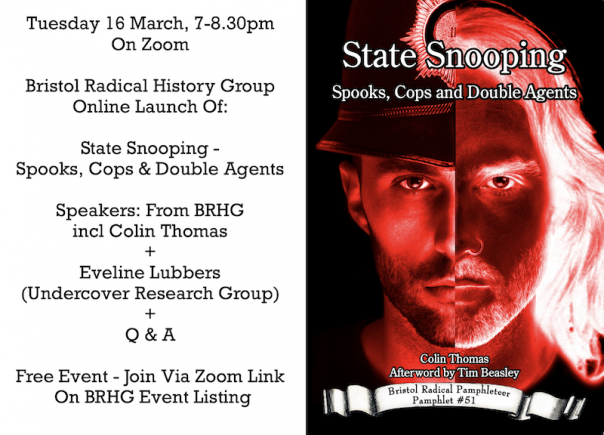 "State snooping has increased, is increasing and ought to be decreased."
So argue Colin Thomas and Tim Beasley in the fifty-first pamphlet produced by the Bristol Radical History Group. It begins with the way that the government of Elizabeth 1 planted double agents amongst dissident Catholic groups and then traces how this infiltration continued through the centuries, targeting Luddites, Chartists, Irish nationalists, trade unionists, war protestors and climate campaigners. The booklet brings the story up to the present day with the Undercover Policing Inquiry and the campaign against the Spy Cops Bill.
The pamphlet includes the vivid testimony of Bristol climate change campaigners who discovered that Mark Stone, who they thought of as one of them, was undercover police agent Mark Kennedy. Some of these agents began close relationships with campaigners and the booklet quotes Helen Steel, McLibel2 activist and one of the victims:
I certainly feel violated by what they have done. We didn't consent and wouldn't have consented if we had known who they were.
State Snooping will be launched at 7.00pm on Tuesday March 16th, at an on-line meeting chaired by Rosemary Caldicott for Bristol Radical History Group. As well as the pamphlet's authors and video clips, the event will include Eveline Lubbers, the author and researcher who has specialised in uncovering secret state and corporate investigation.
The pamphlet is on sale on this website for £3. More info here.
Join Zoom Meeting Tuesday 16 March from 6.45pm:
https://us02web.zoom.us/j/88044217575?pwd=NzJUa1dtTXF6ZCtSY0hEVGxoZDc5UT09
Meeting ID: 880 4421 7575
Passcode: 999124