With Since the descent into civil war in Syria, revolutionary forces have seized control of the Kurdish region of Rojava. This talk aims to assess the strengths,challenges and vulnerabilities of the revolutionary project under way there.
In terms of strengths, I will focus principally on four: (1) revolutionary discipline and the power of ideology; (2) consciousness-raising, collective mobilization, and assembly democracy; (3) gender emancipation; and (4) attempts to accommodate ethnic and religious diversity.
In terms of challenges and vulnerabilities, I will focus on questions of isolation and embargo, the alliance with the U.S., and especially the threat from Turkey. 7.30 – 9.30 TuesdayFebruary 9th, The Conference Room, Hamilton house, 80 Stokes Croft, BS1 3QY.
All welcome.
Dr. Jeff Miley is from the Dept. of Sociology, Uni. Of Cambridge.
In the Conference Room at Hamilton House.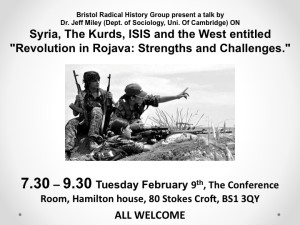 Watch this talk