The Bristol Anarchist Bookfair will be on April 25th 2015 at The Trinty Centre a fortnight before the General Election.
The Bookfair will include – 2 halls filled with stalls from local campaigns & groups to national anarchist distros & publishers; workshops & meetings to discuss & debate the key issues; the Radical History Zone down the road at Hydra Bookshop; activities in Trinity Garden's outdoor permaculture green space; an outdoor Soap-Box for Ranters; a quality vegan cafe; an indoor kids space; and a few surprises too!
Find out more on the Anarchist Bookfair website.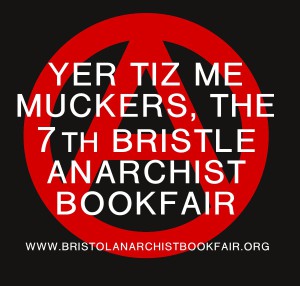 The Cardiff Anarchist Book will be on Saturday, 21 February 2015 from 10:00–23:00 at  Cathays Community Centre. Find out more on Facebook.
Just like last time, there will be two workshop spaces for talks and discussions, and a main hall of stalls, plus creche, bar, cafe and more. In the evening there will be a benefit gig and social. We are currently booking stalls and workshops. More details will appear here soon. Please email cardiffanarchistbookfair@riseup.net