South Bristol History Festival
to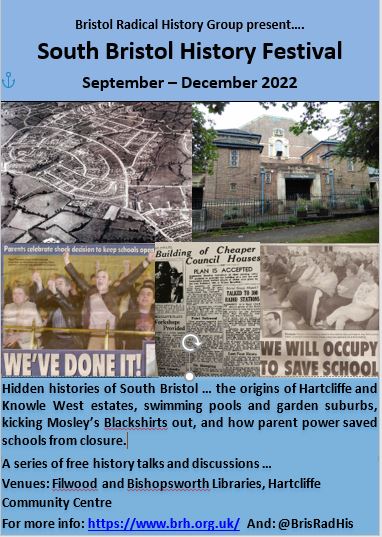 In collaboration with radical historians from south of the river, Bristol Radical History Group (BRHG) are putting on a series of events over the autumn of 2022 looking at the hidden histories of their neighbourhoods.
The first set of events is the Bedminster-Southville history festival in September and early October which features events on the history of tobacco and the experiences of those who worked in the Wills and Churchmans factories as well as talks and films on mining, squatting the White City after WWII, resistance to World War One and the Bedminster workhouse.
In November and December we move further south to uncover the late-nineteenth century socialist and green influences on the garden suburbs of Filwood, the conflict that produced the Hartcliffe Estate, the secret history of swimming pools, as well as the mass and militant resistance to fascism in the 1930s and how parent power saved Gay Elms and Whitehouse primary schools in Withywood and Hartcliffe from closure.
But this is not just about us blabbing on….as we have discovered over the last 16 years, we carry stories through our families about these historical events whether the experiences of moving onto the brand new council estates, working in the tobacco factories or kicking the Blackshirts out. So if you have stories, artifacts, letters or dairies please bring them to the talks as they are the stuff history is made of in Bristol.
All the events are free as our libraries and community centre are offering their spaces for free. BRHG is not funded by political parties, universities, business or local government. We rely on our members giving their labour for free and sales of our publications to break even.
Venues
Filwood Library: Filwood Broadway, Bristol BS4 1JN
Hartcliffe Community Centre: Hareclive Rd, Bristol BS13 0JW
Bishopsworth Library: Bishopsworth Rd, Bristol BS13 7LN
Bedminster Library: 4 Bedminster Parade, Bedminster, Bristol BS3 4AQ
Tobacco Factory: Raleigh Rd, Bristol, BS3 1TF
Southville Centre: Beauley Rd, Southville, Bristol BS3 1QG
Programme
The following programme of events will be updated regularly – check back soon!
Talks
(drag left/right)

:
Date
Time
Location
Title
Details
With
Link
, 2022



Tobacco Factory
Bedminster's Tobacco Women
This talk is based on a community oral history project, that in 2014, explored the lived history of local people who worked in the tobacco factories in Bedminster and Ashton. It offers an […]
Helen Thomas
More
, 2022



Bedminster Library
Bedminster Workhouse: The Life and Death of Hannah Wiltshire
In 1855 rumours of murder and a cover up were circulating in the small north Somerset village of Walton-in-Gordano. An epileptic destitute country girl, Hannah Wiltshire, had died in the […]
Rosemary L Caldicott
More
, 2022



Tobacco Factory
Stolen Paradise: the post-war squatting movement in Bristol
During the summer of 1946, thousands of British families took the law into their own hands to temporarily solve their housing problems by "requisitioning" empty military camps. This mass-squatting […]
Eugene Byrne
More
, 2022



Bedminster Library
Mining in Bedminster and the Dean Lane pit disaster
Many of those who crowd the streets of Bedminster during Upfest or for the Winter Lantern Parade are probably oblivious that they are actually deep in mining country. For many residents, the idea that […]
Tony Dyer
More
, 2022



Southville Centre
'Girls, Wives, Factory Lives' – looking back to Churchmans after fifty years
I entered the shop floor of the small Bristol tobacco factory, Churchmans, in 1972. I wanted see, hear and smell the work and to talk to women manual workers about their work, their lives and their […]
Anna Pollert
More
, 2022



Bedminster Library
The Gas Girls – a hidden history of World War One
In a tribute to the community theatre group acta based in Gladstone Street, Bedminster and their 2014 play Gas Girls, Christine Townsend examines the exposure of a piece of lost Bristolian history […]
Christine Townsend
More
, 2022



Tobacco Factory
Nicotiana Brittanica – tobacco and forced labour
England, tobacco and forced labour Roger Ball will outline the symbiotic relationship between the colonisation of the Americas in the seventeenth Century and the production of tobacco as a […]
Roger Ball,
Will Simpson
More
, 2022



Filwood Library
South Bristol's Garden Suburbs and Swimming Pools
7.00pm, Tuesday 22nd November, Filwood Library, Filwood Broadway, Bristol BS4 1JN The garden-city movement has had a significant impact on the development of Bristol as we know it. It aimed to create […]
Stephen E. Hunt
More
, 2022



Filwood Library
The battle of Melvin Square – Knowle West and anti-fascism in the 1930s
7.00pm, Tuesday 29th November, Filwood Library, Filwood Broadway, Bristol BS4 1JN During the 1930's militant antifascism against Oswald Mosley's Blackshirts was ingrained and established amongst the […]
Paul Kingdon,
Lee Groves
More
, 2022



Hartcliffe Community Centre
Hartcliffe: the estate born out of conflict
7.00pm, Wednesday 30 November, Hartcliffe Community Centre, Hareclive Rd, Bristol BS13 0JW The talk will cover the conflicts around the building of Hartcliffe on the outskirts of Bristol. The promise […]
Paul Smith
More
, 2022



Bishopsworth Library
Parent Power: the fight against the closure of Gay Elms and Whitehouse primary schools in Withywood and Hartcliffe
7.00pm, Weds 7th December, Bishopsworth Library, Bishopsworth Rd, Bristol BS13 7LN In October 2000, Bristol City Council announced that it was considering shutting Gay Elms and Whitehouse primary […]
Mike Richardson
More
, 2022
Bishopsworth Library
The Rise and Fall of Edward Colston
7.00pm, Tues 13th December, Bishopsworth Library, Bishopsworth Rd, Bristol BS13 7LN In November 2014 the Bishop of Bristol, preaching to school students, claimed that 'speculation' about the 'business […]
Roger Ball,
Mark Steeds
More