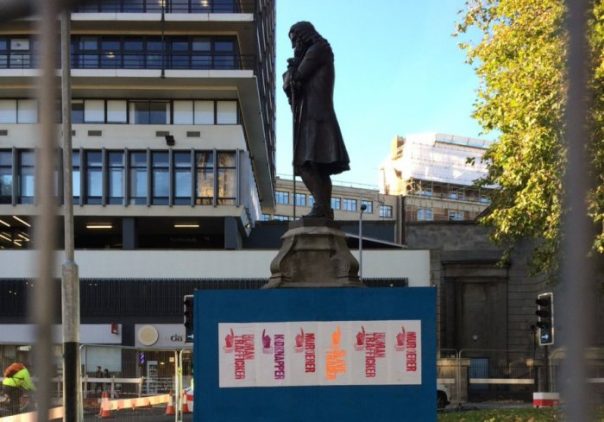 It's official, today the board of the Bristol Music Trust (BMT) have announced the Colston Hall will be changing its name. Congratulations to the Counter-Colston campaigners and their supporters for all the work they have done over the last few years to highlight this issue.
We have been having a laugh today reading some of the reactions…
Apparently Tory Councillor Richard Eddy will now be boycotting the hall….is this because he will only go to venues that are named after slave-traders?
Others have claimed it is a 'knee-jerk' reaction…tell that to the Reverend H. J. Wilkins of Westbury-on-Trym who began the campaign nearly a century ago when he wrote his critical biography of Edward Colston questioning the prominence of  the 'cult of Colston'.
Some have said that BMT are 'pandering to a tiny minority'; it was actually a tiny minority of powerful merchants and politicians that put Colston on the pedestal that he sits on today. The majority of Bristolians never had a say in the naming of buildings, statues or streets. The tiny minority that the city should stop pandering to are the Society of Merchant Venturers who, since their Royal Charter of 1552, have been dictating who should or should not be memorialised – it's for the people of Bristol to decide who is remembered and why – and there are plenty of great candidates.
And as for 'political correctness gone mad'… if you are unclear about the history that is supposedly 'being erased' then we summarise some of our research here:
Edward Colston was an investor, official and eventually deputy governor of the Royal African Company (RAC) from 1680-92; at the time the premier Atlantic slave trading organisation in the British Empire. Our research has made it possible to estimate with confidence the numbers of enslaved Africans transported across the Atlantic by the RAC in period of Edward Colston's management and leadership of the business. The conservative figure of approximately 84,500 Africans embarked and 65,200 disembarked produces a death toll in the region of 19,300 over the twelve year period. This equates to a mortality rate of 23% on RAC voyages, that is more one-in-five enslaved Africans that boarded one of  Colston's company ships died on route.
An analysis of the transported showed that the majority were male (58%) and a significant minority were children of ten years of age or younger (14%). Most of the enslaved Africans (~80%) were embarked from three areas (in order of importance), the Bight of Benin, West Central Africa and St Helena and the Bight of Biafra and the Gulf of Guinea Islands. The majority (~89%) were transported into a life of hard labour (for them and their future generations) into three main locations in the Caribbean; in order of importance, Barbados, Jamaica and the Leeward Islands (Nevis, Montserrat and Antigua).
The full analysis will be published shortly.
BRHG (26-04-2017)