Saturday 26th April, Bristol Anarchist Bookfair @ Trinity Centre
Bristol Anarchist Bookfair Collective invites all Bristolians and others living in the South West to the 2013 Bookfair. Find out everything you ever wanted to know about anarchism but didn't know where or who to ask. The Bookfair sees most of the diverse strands of Bristol's growing anarchist and radical movements gather together, along with many of the UK's major anarchist publishers and distributors.
Alongside an enormous range of anarchist publications and merchandise, you'll find workshops, presentations and discussions putting forward anarchist and radical views on all the major topics of the day, and on plenty from the past too.
Sarah Brown of the Bookfair Collective says: "If you are angry at the waythe politicians, banks and corporations expect us to pay for their crisis then this is the place to be!"
Davey Power believes that: "We can see clearly that capitalism isn't working and the entire political system ruling over us is a farcical failure – just look at the ConDem coalition, or at the way Bristol's 'indpendent' mayor is implementing government cuts against the wishes of residents."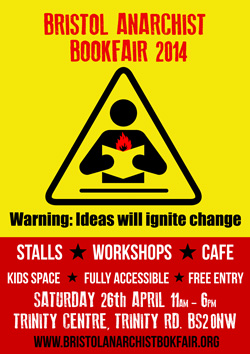 Notes to editors:
1. The Bristol Anarchist Bookfair 2013 Saturday 20th April – 11am to 6pm Trinity Centre, Trinity Road, BS2 0NW (some meetings at Hydra Books, Old Market) With 65 tables of stalls, 35 meetings & workshops organised in conjunction with Permanent Culture Now and Bristol Radical History Group, kids space, outside fun-fayre, music, art and entertainment, and an all day vegan cafe courtesy of Kebele Cafe Collective. Accessible to all (please contact if you have special requirements). Free entry.
2. View the full Bookfair programme at http://www.bristolanarchistbookfair.org/2014-bookfair/
 3. View all Bookfair related events http://www.bristolanarchistbookfair.org/2014-bookfair/
 4. Contact the Bookfair organising collective at bristolanarchistbookfair@riseup.net