Bristol Anarchist Bookfair 2013
After a year off we're back for our 5th Bookfair in 2013! The Bookfair Collective has switched venues this year to somewhere with more outdoor space, and we're a little earlier in anticipation of another hot April. Taking the outdoors theme a little further, expect a potential playfull mix of bookfair and fayre. But we remain deadly serious about the politics, we live in dramatic times. There is much to play for. Free up your day and join us for free.
Bristol Radical History Group will be holding a series of talks at the Radical Histoy Zone which will be based in the Hydra Bookshop.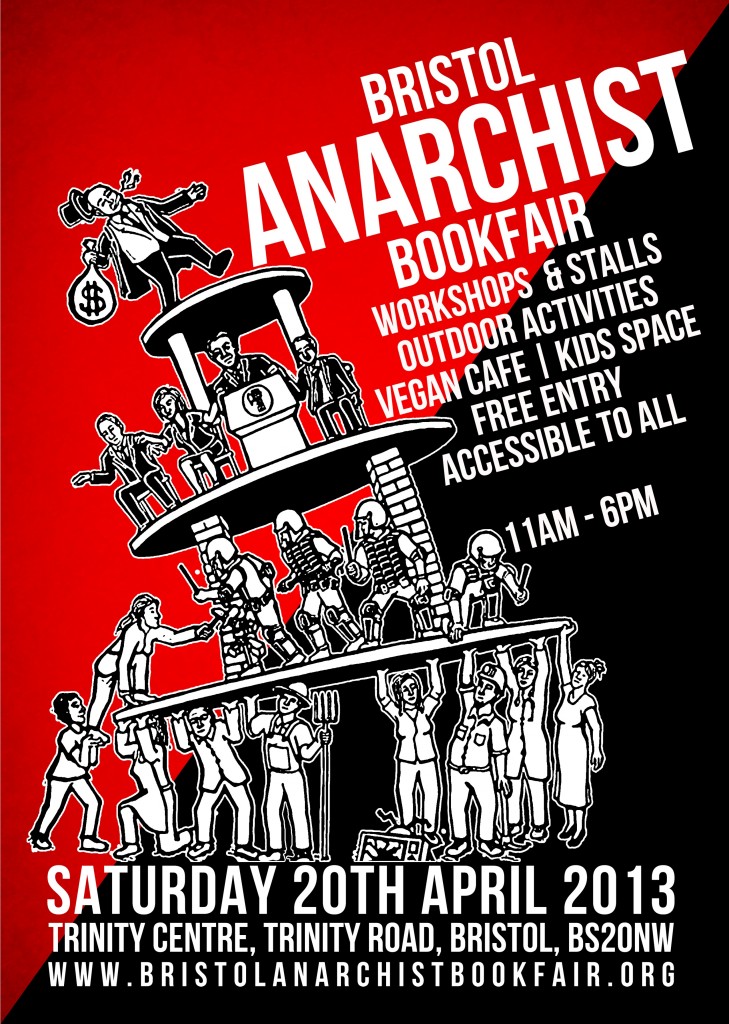 | Date | Time | Title | Details | With | Link |
| --- | --- | --- | --- | --- | --- |
| , 2013 | | Secret Manoeuvres in the Dark | Secret Manoeuvres includes revelations from the Economic League's blacklisting of trade unionists, to the McLibel case to the high-profile exposure of police spy Mark Kennedy | Eveline Lubbers | More |
| , 2013 | | British armed forces' strikes and mutinies in 1918-19 | British armed forces' strikes and mutinies in 1918-19: a radical history project for the anniversary of World War I BRHG's very own Roger Ball will kick off the afternoon with the conveniently […] | Roger Ball | More |
| , 2013 | | Three Minutes to Midnight: The Women's Anti-Nuclear Protest at Greenham Common | Elaine Titcombe. History PhD Student, The University of the West of England, Bristol. In 1984 the doomsday clock reached three minutes to midnight. This was the closest recorded time to global […] | Elaine Titcombe | More |
| , 2013 | | Poor Man's Heaven: The Land of Cokaygne and Other Utopian Visions | "We'll eat all we please from ham and egg trees that grow by a lake full of beer? The landlord well take and tie to a stake and we won?t have to work like a slave..." In the face of a life defined by […] | Alex (Past Tense) | More |
| , 2013 | | Hillbilly Nationalists, Urban Race Rebels, and Black Power | Hillbilly Nationalists, Urban Race Rebels, and Black Power: Race, Class and Gender in the 60s U.S. This talk is based upon a series of books that have recently appeared covering the hidden history of […] | Roger Ball | More |
| , 2013 | | Running down Whitehall with a black flag | Running down Whitehall with a black flag. Memories of anarchism in the 1960s Di Parkin was a revolutionary activist from the early 1960s to the 1980s. She was employed as a community worker and an […] | Di Parkin | More |
| , 2013 | | Libres: Songs of the Spanish Revolution | Pilar Lopez's performance about the Spanish Social Revolution of 1936 aims to draw inspiration from these amazing times, sharing the beauty and relevance of those events and making links with what's […] | Pilar Lopez | More |