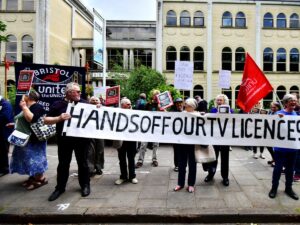 In recent years there have been many initiatives to celebrate the contribution of particular groups in Bristol's history, but we know a lot of good people and achievements are excluded or forgotten, including older people. We plan to bring their contributions to life to celebrate and share by collecting and publishing their oral histories through the  Activists' Memories project. The project is a collaboration between Bristol Older Peoples' Forum (BOPF) and Bristol Radical History Group (BRHG) and follows the 'history from below' research approach looking at how individuals and groups 'make history'.
We at BOPF are fed up with hearing older people referred to as 'bed blockers' and 'a drain on the social care budget' or lumped together as 'Boomers' as we know the contribution to Bristol life so many have made over many decades. We are eager to capture a range of stories of people's contribution and ensure their involvement and activism is remembered. In summary, we are keen to collect stories from a range of our members in our diverse communities but, in particular, the oldest members of our community to begin with. One of our aims in BOPF is that every older person in the city is seen to be valued. Many of us remain active and committed in our work retirement, indeed, these years can be amongst the best of our lives!
We plan to bring their contributions to life, to celebrate and share them in wider society through publishing Activists' Memories. We want to create a diverse and inclusive history of Bristol and its older people looking at how their experiences and actions contributed to improving life in the city. For some it might be about campaigning or protesting, for others it might be about migrating and adjusting to a new life. In essence though it will be about your influence and the contribution you have made in some way. Often, we do not recognize our impact till we come to tell our story.
Two BOPF trustees are interviewing people and writing the stories. Tony Wilson and Trish Mensah. They both have an interest in ensuring older people's stories are heard.
How can I help or get involved?
Are you someone who has played a role in a campaign? Did you go on protest marches about an issue you cared about deeply? Or start a group?  We would like to celebrate the role our older citizens played in Bristol's history and recognize these achievements and the impact it has had.
Get in touch with Trish and Tony by emailing brh@brh.org.uk. We want to record the interviews so that the oral histories are available to future historians and researchers too. Some interviews  may appear on the Facebook site of the BOPF and others may make it to this website or be published by BRHG/BOPF.
You can take a look at the Bristol Older People's Forum website here: www.bopf.org.uk

Stuff linked to this project...